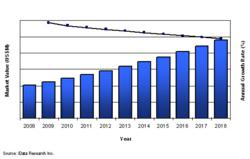 The neuromodulation market is expected to more than double in size by 2018
Vancouver, BC (PRWEB) March 06, 2012
According to a new report by iData Research (http://www.idataresearch.net), the leading global authority in medical device market research, the U.S. neurological device market, was valued at over $2.7 billion in 2011. By 2018, the market is expected to reach over $5.3 billion, fueled by the expected FDA approval of new products in the gastric electric stimulator (GES), surgical robotics and neurovascular stent markets. In addition, technological advancements in the CSF management, neuroradiology, neuromodulation and neurosurgery segments are fueling market growth. Stryker's recent acquisition of Boston Scientific's neurovascular division is also expected to change the competitive landscape.
"In 2011, gastric electric stimulators (GES) were the fastest growing segment of the neurological device market in the U.S.," says Dr. Kamran Zamanian, CEO of iData. "Currently, Medtronic's Enterra™ Therapy System has a humanitarian device exemption (HDE) that allows the device to be sold for use in patients that have no viable alternative approved treatment options available, while IntraPace has received European CE Mark approval for their abiliti™ system for obesity, which could significantly expand the potential market for GES treatment. As physicians become more comfortable with the procedure and as new devices gain FDA approval, the market is expected to see dramatic growth."
The neuromodulation market is expected to more than double in size by 2018, due to rapid growth expected in the gastric electric stimulator, spinal cord stimulator, vagus nerve stimulator, deep brain stimulator and sacral nerve stimulator segments. Unit sales of spinal cord stimulators are driving the majority of growth in this market as increasing indications in chronic pain therapy and technological improvements to SCS devices have contributed to increasing unit sales. In addition, the aging population will increase the size of the potential patient population for SCS devices, presenting a significant growth opportunity for device companies.
The report also states that Stryker's recent acquisition of the neurovascular division of Boston Scientific has propelled the company to the leading position in the interventional neuroradiology market, including detachable coils, guidewires and neurovascular stents. The company, however, faces strong competition from Covidien's PipelineTM neurovascular stent device, which is the first and only flow diversion device approved by the FDA for the treatment of large brain aneurysms.
"The increasing number of interventional neuroradiology procedures being performed has increased demand for access products and boosted unit sales growth," says Dr. Zamanian. "Guidewires have enhanced distal navigation and trackability properties that have allowed for the guidewire of choice to be used in various complex neurological procedures."
For more information, register free on iData's website at:
http://www.idataresearch.net/idata/registration.php
iData's 6-report series on the: "Markets for Neurological Devices 2012" covers the U.S., Europe (15 Countries) and Japan, India, China and Brazil provides a comprehensive analysis for CSF shunts, CSF external drainage systems, intracranial pressure monitoring devices, detachable coils, liquid embolics, catheters, guidewires, neurovascular stents, spinal cord stimulators, vagus nerve stimulators, sacral nerve stimulators, deep brain stimulators, gastric electric stimulators, neuroendoscopes, stereotactic frames, stereotactic frameless systems, ultrasonic aspirators, aneurysm clips and neurosurgical microscopes.
About iData Research
iData Research (http://www.idataresearch.net/idata/discoveridata.php) is an international market research and consulting group focused on providing market intelligence for medical device, dental and pharmaceutical companies. iData covers research in: neurology, neurovascular, urology, endoscopy, laparoscopy, Women's Health, ENT and more.
###