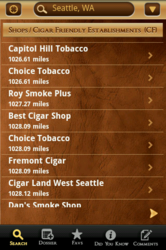 Very impressed ... Easy to navigate and up-to-date information ... I'm a cigar advocate and I travel for work a lot so I can see how this app will be very useful"
New York, NY (PRWEB) March 06, 2012
Stogie enthusiasts, retailers, and merchants can now use the free mobile app Cigar Finder on their Android phones.
Cigar Finder for Android launched March 5, following the release of the updated version 1.1 for iPhone 4. The app has about 8,000 establishments in its database - more listings in the U.S. and Puerto Rico than any other app on the market. It also helps users discover and share their favorite local bars and shops with other stogie fans.
Using the Android's navigational capabilities, Cigar Finder locates and provides directions to places based on a store name, zip code, city and state, or a user's current location. Users can save their favorites, invite their friends to meet them at a local place, and keep tasting notes of their premium cigars. The revised "Did You Know" section, written by a certified tobacconist, provides valuable information for people who are still fairly new to cigar smoking.
"Very impressed," wrote an anonymous Cigar Finder user about the 4 out of 5 star rated iPhone version. "Easy to navigate and up-to-date information ... I'm a cigar advocate and I travel for work a lot so I can see how this app will be very useful!"
For retailers, Cigar Finder is an opportunity to share a description, store logo, hours of operation, promotions, new inventory, and other details. For cigar aficionados, the appeal of Cigar Finder is its easy format and extensive database - not to mention the exclusive discounts available to Cigar Finder patrons from participating places.
"It's a great app for discovering shops, bars, and smoking lounges when you're on-the-go," said Jaimie Siegle, marketing and communications director for CigarFinder LLC. She added that the app's simple platform helps connect retailers with customers who already enjoy cigars, whether they do so occasionally or for special celebrations or events.
Merchants and retailers can easily complete their profile here. This profile will appear on both Android and iPhone devices.
About Cigar Finder
The mission of CigarFinder LLC is to connect and enhance the experience of the cigar community. The company launched its first product, Cigar Finder for iPhone, in August 2011.
To learn more, visit the Cigar Finder website or Facebook page. More screenshots are available on the Cigar Finder for Android page.
# # #