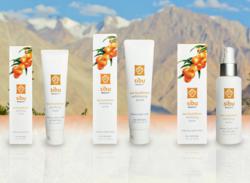 Our loyal fan base is always reaching out to give us their thoughts on which products they would like to see added to our ever-expanding line. The top two requests over the past several months have been for a toner and a mask.
Salt Lake City, UT (PRWEB) March 09, 2012
Sibu Beauty, the most well-respected maker of sea buckthorn berry-based beauty and wellness products unveiled three new topical products; Sea Buckthorn Exfoliating Scrub, Purifying Mask and Clarifying Toner, to bring the total portfolio of 100% natural Sibu Beauty products to 13.
Sibu Beauty Exfoliating Scrub - a gentle yet effective blend for deep cleaning pores and mildly removing dead, dull surface cells. Leaves skin clean, soft and vibrant. Minimizes excess oil and harmful antioxidants from the skin. $19.95.
Sibu Beauty Purifying Mask - the perfect 1x per week treatment to rid skin of impurities that lie deep beneath the surface. An exclusive formula of effective ingredients to help unclog pores, promote healing of irritations and minimize damage caused by free radicals. $29.95.
Sibu Beauty Clarifying Toner – a refreshing solution to help eliminate excess toxins and residue from skin. Minimizes pores, clarifies, reconditions and hydrates skin. The sea buckthorn fruit extract and seed oil helps to balance pH levels for up to 6 hours. $19.95
The relatively young Sibu Beauty line also includes two ingestible products: Omega 7 Gel Caps and Sea Buckthorn Revitalize & Renew Liquid Supplement, plus the topical varieties which include: Cleanse & Detox Bar, Liquid Cleanser, Repair & Protect Face Cream, Hydrating Serum, Seed Oil, Replenishing Night Cream, and Age Defying Eye Cream. The entire Sibu Beauty line of products retails between $6.95 and $39.95 each.
According to Sibu Beauty President, Peter McMullin, "Our loyal fan base is always reaching out to give us their thoughts on which products they would like to see added to our ever-expanding line. The top two requests over the past several months have been for a toner and a mask. After consulting with numerous beauty experts and our team of internal professionals, the decision was made to also add an exfoliating scrub to the mix as a deep-cleaner that can be used several times throughout the week to help rid the skin of toxins. The composition of the sea buckthorn berry helps to impart necessary nutrients into the skin while smoothing out imperfections, irritations and wrinkles."
Sea buckthorn is the hottest ingredient to hit the beauty and wellness market since it's introduction into the United States a few years ago, led by Sibu Beauty Founder/CEO, Bruce McMullin.
When asked about the future of the touted "miracle berry", McMullin explained: "This tiny orange berry has been used in ancient civilizations throughout Eastern Cultures for centuries. Although sea buckthorn grows in a variety of locations throughout the world, our experience and research has proven that the Himalayan variety is the purest and most potent available due to the harsh climatic conditions it endures and the pristine soil and air quality in which it grows. We harvest our berries at the peak of freshness and transport them, via refrigerated container ships, to the United States where all the Sibu Beauty products are manufactured. " He went on to say: "There is so much growth potential for our line and we have just begun to realize the potential of sea buckthorn as a key ingredient in numerous beauty, wellness and lifestyle arenas. Due to the tremendous response our young line has received from both the trade and consumer markets we are in the process of many exciting developments that we will be introducing in the coming years."
For more information about Sibu Beauty and the health benefits about the powerful and nutrient-rich sea buckthorn berry, please visit http://www.sibubeauty.com.
About Sibu Beauty
Sibu Beauty (http://www.sibubeauty.com) was introduced in early 2009 to provide customers worldwide with a comprehensive approach to beauty from the inside out and outside in. The Sibu Beauty product line is based on a powerful and distinctive whole food source, the sea buckthorn berry. This super food is backed by hundreds of scientific studies demonstrating its success at addressing a variety of consumer needs including improved skin tone and texture, healthy aging and digestive health and noticeable improvements in cardiovascular fitness, energy and weight loss.
About Sibu, LLC
The products of Sibu Beauty - a subsidiary of Sibu, LLC (http://www.sibu.com), and "The Sea Buckthorn Company" - are made with only premium sea buckthorn berries exclusively grown and harvested for the company in the Himalayan Mountains of Tibet. The company's meticulous harvesting process results in a more hardy and potent berry. Sibu's proprietary manufacturing process maximizes the efficacy of sea buckthorn raws, producing one of the most nutrient dense sea buckthorn products available on the market today. The Tibetan villagers who are responsible for harvesting Sibu Beauty's sea buckthorn berries benefit from a fair trade agreement, safe and healthy working conditions and environmentally responsible practices that ensure they will enjoy the benefits of the sea buckthorn harvest for years.