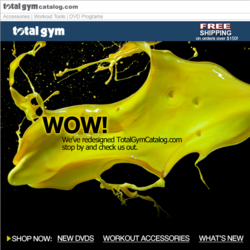 With our previous site design we were limited; this new design not only helps to modernize the look of the brand, but offers an improved user experience and the flexibility for us to grow our offering
West Chester, PA (PRWEB) March 06, 2012
TotalGymCatalog.com is an extension of the Total Gym brand. Here Total Gym aficionados can find their fill of workout tools, DVDs, accessories and supplements to accompany their much loved Total Gym exercise machines.
Initially created more than 7 years ago as a simple landing page offering a few workout tools for the Total Gym, TotalGymCatalog.com grew with an increase in product demand and selection.
As a leader and innovator in home fitness, Total Gym continuously adds new workout tools and accessories to its catalog offering. This expansion resulted in a need for a new site design that would allow the flexibility to grow.
The recent TotalGymCatalog.com transformation takes advantage of the latest advancements in technology and modern design. The new layout allows for a streamlined shopping experience with easier navigation and product search.
Customers are able to search for specific products by workout type – i.e. Pilates or find the latest additions in the "What's New" section. Workout Accessories are now categorized by upper body/core, lower body/cardio, customizing the shopping experience by the individual users needs.
The new site design has been well-received by the Total Gym community. Customers were sent an email announcing the new site design in late February.
"With our previous site design we were limited; this new design not only helps to modernize the look of the brand, but offers an improved user experience and the flexibility for us to grow our offering," adds Karen Dechaux, Director of Creative & Brand Marketing for Total Gym Direct.
About Total Gym® Direct
The Total Gym® is the ultimate workout machine utilizing an individual's own bodyweight as resistance to perform more than 80 total-body functional exercises. Total Gym uniquely incorporates the use of multiple muscle groups together in all planes of movement, the most efficient way to exercise and see results. Total Gym, rooted in the physical therapy market since 1986, entered the consumer "home fitness" market in 1996 with the airing of its first television infomercial featuring long-time user Chuck Norris and co-host Christie Brinkley. The Total Gym infomercial is one of the industry's longest-running and most successful; broadcast to 85 countries and credited with sales of over four million units worldwide. For more information, visit http://www.TotalGymDirect.com or call (877) TOTAL - GYM.
###