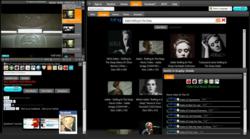 Fort Lauderdale, Florida (PRWEB) March 07, 2012
fuhshniZZle enables users to watch what they want, when they want it, without forced viewing of Vevo™ advertisements before the video. Don't just hear the music, but see the official music videos, live concert footage or user created lyric videos; or run the service in the background as a fully personalized internet radio station. Don't hunt for multipart YouTube videos – add them to a playlist and seamlessly play them in order.
fuhshniZZle was developed to address users' entertainment needs by accessing the YouTube video catalog to quickly and easily create video playlists which can be saved and shared among social networks. Directly search YouTube (assisted by auto-complete) to cull results from its multi-billion catalog of videos. Preview videos, inside fuhshniZZle or from YouTube.com, then instantly add them to a new playlist (a 'shniZZmiX'). Browse related and recommended content for each video in the shniZZmiX to explore new artists or unknown treasures.
Auto-sync web searches by the playing video's title to explore related websites, images, videos and news. Drag and drop videos from the bing search tab or YouTube, directly into new playlists via the fuhshniZZle drop zone. Search Amazon (US and international) for related merchandise. All links open in new windows and tabs to allow endless web surfing without interrupting the playlist.
fuhshniZZle taps into the web community's overwhelming interest in streaming music, integrating discogs.com (music/artist discography website) to search YouTube's extensive music video collection for any song, by any artist, to create comprehensive music video playlists. fuhshniZZle's mission is to transform each and every person into her own personal internet radio station.
fuhshniZZle offers two formats for social sharing: the shniZZmiX - a link to the fully featured website, preloaded with a specific playlist; or the shniZZfo – a lightweight version which loads only the contents of the playlist through a mobile-friendly video player.
fuhshniZZle integrates Facebook via its "fuhSocial" feature to access user's timeline and instantly post the currently playing video to Facebook. The playlists can also be shared through the standard social sharing methods (Like, Tweet and +1). Playlists' contents can instantly be cloned into a new mix with the fuhshniZZle "Merge" feature.
In support of a multilingual web, fuhshniZZle provides translation via the Google Translate widget spanning over 50 languages, and offers targeted merchandise through Amazon's numerous international websites. With over 20 of the most popular JQuery UI™ themes to choose from users can customize the look and feel of the fuhshniZZle app to suit their unique style and taste.
The first 10,000 beta testers to sign in and save a video playlist will receive a free lifetime upgrade from free basic service to shniZZFINITY premium service, upon the official launch of fuhshniZZle 1.0. ShniZZFINITY service increases basic service's 10 video per playlist limitation to 500 videos per playlist; removes the in-site click through banner ads (except for those embedded by YouTube in the video); and no video commercials.
Formed in 2009, MultiTask123 has been developing themed web applications designed to enhance and empower the end user experience via integration of common features and use cases. fuhshniZZle integrates the hottest genres of today's web 2.0 experience - video, music, shopping, browsing and social networking, to "make your multimedia sizzle with fuhshniZZle."
Beta testers interested in the promotion and the site may proceed to [http://www.fuhshnizzle.com/promos/betaoffer.html __title__ fuhshniZZle Beta Offer].