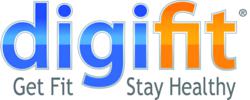 "We are at a tipping point where personal computing technology and social awareness work together to make health and wellness a reality and I am eager to lead Digifit to this next chapter," said Dean Hovey
Santa Barbara, CA (PRWEB) March 06, 2012
Leading mobile health and fitness company, Digifit® , appointed one of Silicon Valley's most well-respected innovators, Dean Hovey, as president and CEO. Hovey is a successful designer, entrepreneur and venture capitalist who has played a crucial role in the progression of personal computing with countless contributions to the advancements of today's technology including the design of the original Apple mouse for Steve Jobs, human animation software now used in most 3D animated films and software that enables computers to 'read' paper documents. Dean Hovey offers a wealth of knowledge working with Fortune 500 companies such as Apple, Target and Kimberly Clarke, as well as, healthcare providers such as Alegent Health, Fairview Health and governmental agencies including the CDC, and HHS.
"I see Digifit as the leading mobile platform for fitness, wellness and prevention programs that can delight end users while providing a complete system for improving outcomes and reducing costs for employers and other major stakeholders," said Dean Hovey. "We are at a tipping point where personal computing technology and social awareness work together to make health and wellness a reality and I am eager to lead Digifit to this next chapter."
Dean Hovey has thrived in Silicon Valley's entrepreneurial culture, forming a dozen companies, and has served as a senior executive in two public companies. Most recently, Hovey was president of Comprendo, LLC, a firm that assists early stage companies in formulating business models to develop products and solutions for consumer healthcare. Prior to forming Comprendo, Dean was vice president of business development and general manager at Plantronics, Inc. where he launched the brand's console gaming products and set strategy for their consumer wireless products. Previously, he founded Pensare, Inc., a provider of eLearning business solutions for large organizations, and had served as vice president of business development for Caere Corporation's Imaging Products Division featuring OCR (Optical Character Recognition) technology.
During the early nineties Hovey was a general partner of Avalon Ventures, a premier seed venture capital fund. Before entering the venture capital industry, Hovey was an active entrepreneur during which he founded a computer accessories company Trace Systems, Inc. and a robotics start-up called Elfin Technologies. While studying at Stanford University, Hovey created a new medical instrument to improve differential white blood cell counts and founded Hovey/Kelley Design, today known as IDEO, to take the instrument from prototype to production design. Within a year, the design firm added a number of clients including Apple Computer, for which he, along with several Hovey/Kelley engineers, created the original Apple Mouse for Steve Jobs and was awarded the patent for this design.
"We are excited to have somebody of Dean's background and experience ready to leverage our strengths and guide our company to the next level of growth and development," said Michael Williams, founder of Digifit. "As we continue to connect the dots between health and fitness, Dean's vision and leadership will propel us to new innovations."
The Digifit App allows users to track activities anywhere, indoors or out, focusing on heart rate training and integrated health monitoring. Digifit bundled solutions range from weight loss to optimum performance packages, specifically designed to help users meet fitness and health goals. The app interfaces with the most popular open wireless sensors protocols, including ANT+, Bluetooth and Bluetooth Smart, to put the power of real-time personal body metrics into the hands of consumers.
About Digifit®
Digifit offers truly engaging health and fitness solutions using sensors and wearable technology integrated with mobile devices and the cloud that lets users track activities anywhere, indoors or out, with a focus on heart rate training and monitoring. Founded in Santa Barbara, Digifit was the first app developer to bring heart-rate monitoring to the iPhone and now features a suite of apps that track cardio, running, Spinning® and other cycling data from the ANT+ compatible sensors, all available for download from the iTunes App Store. Dedicated to developing innovative applications, grounded in science and powered by technology, Digifit helps people develop healthy habits and lead healthier, happier and longer lives.