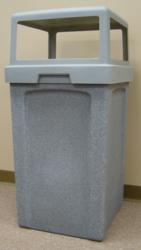 Manchester, CT (PRWEB) March 07, 2012
Dawn Enterprises, elite manufacture of outdoor site furnishings, has added a new waste receptacle to their line up. This new 40 Gallon plastic trash receptacle is the perfect lightweight solution to waste management both indoors and outdoors. Constructed from high-density polyethylene this receptacle is both portable and durable making it a smart and cost-effective alternative to concrete, metal and wood.
This new trash receptacle is a popular choice for parks, recreational areas, playgrounds, schools, and commercial property due to its ease of maintenance, long product life and variety of colors. In addition to the standard color options, (red, reflex blue, black, brown and gray) this receptacle is also available in the following colors, gray granite, sandstone, and green marble as well as custom colors to match your design needs or existing décor. Other options include matching snap-on lid (2 or 4 openings) and concrete filler slab to increase the weight and deter theft.
Located in Manchester, Connecticut, Dawn Enterprises proudly ships anywhere in the United States and Canada at very competitive rates. For more information about the company or their products please visit their site at http://www.godawn.com or call at 800-262-3296. For specific information about the new 40 Gal. Square Plastic Receptacle please visit http://www.godawn.com/category/trash-receptacles.htm.