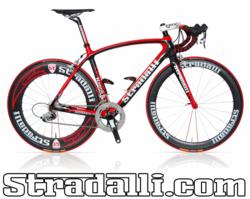 All the staff here at Stradalli Cycle would like to congratulate Greg on his successful surgery
Pompano Beach, FL (PRWEB) March 05, 2012
Stradalli Cycle, the high performance carbon bicycle manufacturer, would like to congratulate Greg O'Donnell on his successful knee surgery and celebrate with him as he rides his Stradalli again.
Greg, who is a life long athlete and trophy winner at the 2011 IronMan 70.3 in Oceanside California, twisted his knee while running and tore his medial meniscus, the resulting injury required surgery. He was unsure about his athletic future and if he would be able to ride again. However the successful surgery, which was performed at the El Centro Regional Medical Center, has allowed Greg to once again compete with his Stradalli high performance carbon fiber bike.
As a tri-athlete, Greg competes in multiple disciplines including cycling. Greg's favourite bike for the cycling part of the triathlon is a Stradalli. These high performance carbon fiber bikes offer strength, rigidity and torque while being lightweight. The 100% 3K carbon fiber frames are ideal for triathlons.
"All the staff here at Stradalli Cycle would like to congratulate Greg on his successful surgery," said Thomas Steinbacher of Stradalli. "We hope we will see him winning more and more events on his Stradalli TT bike."
As well as being lightweight and superbly built, Stradallis are also one of the most affordable range of carbon fiber road bikes available today. They offer incredible value for money and come will a variety of group and wheelset options including SRAM.
About The Stradalli Cycle Company
The Stradalli Cycle Company is based in South Florida and sells worldwide to the keen athlete who demands the best equipment. With years of experience in both high tech manufacturing and design as well as a love for cycling, Stradalli brings passion and innovation to the road racing and time trial markets.