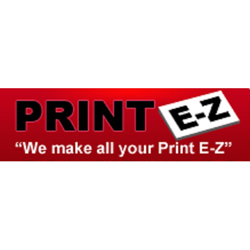 Monroe, NY (PRWEB) March 06, 2012
Browsing through a brick-and-mortar store and a website are similar experiences. In either case, customers desire simplicity and directness. A tortuous format or difficult-to-find products, on the other hand, turn curious customers into flustered shoppers who, frustrated, leave without buying. In physical and virtual realms, better organization, greater details, and clear displays translate into satisfied customers who, when browsing, have a greater chance of purchasing. For these reasons and more, computer and business checks retailer Print E-Z reorganized and expanded its website and introduced the new design in February 2012.
Based in Monroe, N.Y., Print E-Z rolled out several new features for PrintE-Z.com. First, the layout of the website was greatly expanded, with dropdown menus displaying all options for checks and other products. For navigation purposes, each type of product was broken down even further, allowing customers to clearly find the sought-after item without wading through several pages. The new format, as well, presents an even greater variety of checks, business forms, cards, wedding invitations, envelopes, and stationery from a single click. Customers looking for suggestions can find even more information through the website's new blog.
Personal checks are considered an extension of individuality and taste, and with more than 800 styles available, PrintE-Z.com's new format is divided into types to suit all personalities, from patriotic to animal and special interest themes. Businesses, as well, benefit from Print E-Z's new website format, as manual and computer checks are additionally divided by format, such as one-write and three-to-a-page checks.
For efficiency and economical purposes, computer checks allow all payroll to be done in-house and align with common accounting software programs, such as Quicken, Quickbooks, Peachtree, and Microsoft Money. Ink jet, laser, and dot-matrix printers are all compatible with computer checks. In representing a business, each set is printed with the company or organization name, address, and banking details, and a logo, ideal for branding, can be added to the background free of charge. All Print E-Z computer checks are further designed with advanced security features to lessen fraud risks and have consecutive or reverse numbering.
Computer checks have several advantages over their manual counterparts, in addition to versatility and compatibility. Because each is generated with a standard accounting computer program, the software stores a record of all checks, which is easily compared with a bank statement. As all are printed from a computer, the appearance is more professional and, for the recipient, easier to read. PrintE-Z.com additionally offers several formats, including all-purpose, three-to-a-page, and blank computer checks, and matching envelopes.
Because of the quick pace at which businesses move, Print E-Z ships all computer checks within 24 hours. Aside from checks, PrintE-Z.com carries many more products that improve a company's organization and branding strategies: business forms for shipping, placing orders, repairs, and other functions; labels with clearly printed addresses; envelopes and stationery; holiday cards, and full-color and promotional products.
Press release services and search engine optimization provided by Keyword Performance.