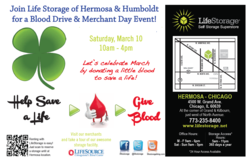 This event was thought up because we wanted to give back and show that LifeStorage cares about its community
Chciago, IL (PRWEB) March 06, 2012
LifeStorage, Chicago self storage provider for home and business, records management and office solutions, is hosting a Blood Drive and Merchant Day event at its Hermosa location at 4500 W. Grand Ave. in Chicago, on Saturday March 10th from 10am to 4pm. Partnering with LifeSource, Chicago's Blood Center, LifeStorage Hermosa Store Managers Yecy Morquecho and Mario Alequin decided to combine the community-driven Blood Drive with the Merchant Day to achieve as much exposure as possible. Now, interested parties can stop by the LifeStorage facility, donate blood, peruse what the merchants have on display, and see what LifeStorage facilities offer in terms of self storage and office solutions. The combination of events works threefold: giving back to the community, helping out existing tenants, and hopefully attracting new business.
LifeStorage Hermosa has been hard at work promoting the event by passing out fliers, sending out emails, using social networking, and word of mouth. While expanding business and attracting new customers is paramount for any business owner, LifeStorage takes community involvement seriously and works hard to give back whenever there is an opportunity. Morquecho saw the Merchant Day as a perfect way to help out the small business owners that rent with LifeStorage garner more attention by combining it with the Blood Drive, and the reverse works as well.
"This event was thought up because we wanted to give back and show that LifeStorage cares about its community. We wanted to include Merchant Day because we have a few tenants that have small businesses and wanted to help them out and also generate new business. Mario and I decided to combine the two because we see it as a triple benefit: maybe you're coming specifically to shop, or to give blood, but hopefully, you'll do both. It also gives possible prospects a chance to look around at our facility and see how LifeStorage is different from other self-storage companies," Morquecho said.
"And as for the blood donation, LifeSource is a great organization, and we can't overstate this enough: donating blood really does make a difference...it really can save a life. We encourage any community members that can take a bit of time our of their schedule to stop by and really make a difference, because every drop helps!"
For more information about the Blood Drive and Merchant Day, please call LifeStorage Hermoa at: 773-235-8400