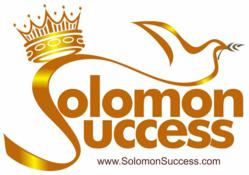 Houston, TX (PRWEB) March 05, 2012
Craig Johnson, Director of Ministries at Lakewood Church in Houston, the largest church in the United States, stopped by the Solomon Success podcast to discuss his new book, "Lead Vertically." Johnson discussed passion, people and God-dependence as key principles he learned and developed with Lakewood Church Pastor Joel Osteen.
"Lakewood Church started in a little feed store," said Johnson, describing the church as it began in the 1960s, long before he came on staff. "They didn't have huge success but built a core. They had massive growth in the 70s and 80s, in one of the roughest neighborhoods in Houston. When Joel took over, he wasn't really expecting to be the Pastor—he just worked behind the scenes. You never know, when God puts you out front, He never worries about your faults. He just wants you to be willing to take the challenge." The church now meets in the former Compaq Center where the Houston Rockets played. Lakewood's weekly attendance averages 40,000.
Johnson came on board when the church began its move into the huge Compaq Center. It was then that he faced leadership challenges that pulled the floor out from under a lifetime of ministry. "When God moves, and He does something beyond we could ask, think or imagine—I was dealing with dynamics I'd never dealt with before," said Johnson. "We depended on God to show us how to respond to all these new situations. When you ask us how we did it—we didn't do it. God did it. Leading vertically is looking up and saying, 'God, how would you develop this person?' You're taking people on a whole different plane, a whole different level."
He talked about one of the book's key leadership principles: The Heart of a Child, The Will of A Warrior. "Joel [Osteen] is very childlike in who he is and how he leads. He's probably the most loyal person I've ever met. He knows that God can lead in any time, in any situation. A Heart of a Child is willing to see God's plan and accept it. The Will of the Warrior, however, is determined to see that thing through."
Johnson emphasized Lakewood Church's focus on people, calling it a central tenet of the church's leadership. "The goal's never more important than the person because the person helps you reach the goal. So many times as leaders, we skip over our people to try and meet our sales quota. What we can really forget is that if we really invest in our people, they'll not only help you reach that goal, they'll give you longevity and enable you to reach more."
Finally, he mentioned the vital importance of leaders maintaining their reputation and developing influence. "Reputations are important because of influence. Joel Osteen says he'd rather have influence than money. With influence, you can generate money, but also develop relationships and enable other things to happen. We teach people that the most important thing they have is their influence."
About Solomon Success
Solomon Success is dedicated to the timeless wisdom of King Solomon and the Proverbs in order to maximize one's business and life. It has been said that everything his hands touched prospered. To our advantage, we can find King Solomon's financial strategies in addition to many life philosophies documented in biblical scriptures. With interviews based on investing according to timeless biblical principles, the Solomon Success Show offers a fresh breath of air in a world that too often ignores the wisdom of the ages. For information, call 714-820-4290 or visit Solomon Success online.