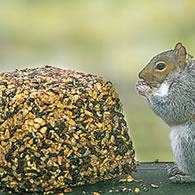 Of all the contests we offer each year, the Photo Contest is definitely the one we look forward to the most--and so do our customers!--Shelby Dunn-Kimball
(PRWEB) March 08, 2012
Each year Duncraft offers one or two photo contests, featuring a variety of topics such as winter birds, squirrels or birds and flowers. This year Duncraft's Photo Contest welcomes photos of all aspects of backyard wildlife—squirrels, raccoons, birds, chipmunks or 'possums. Photos of any backyard visitors will be accepted and everyone is encouraged to enter.
Complete guidelines for this year's contest can be found on Duncraft's Wild Bird Blog. Photos will be collected and the finalists chosen by Duncraft. Then comes the fun part. Finalists will be displayed on the blog and voted on by viewers. As with each contest, a comprehensive prize package will be awarded the lucky winner.
This year the prizes include a ground-level bird bath for backyard birds and critters, a wildlife seed block, a ground platform feeder and a 15 lb. bag of wildlife food.--valued at $160.00. Duncraft hopes to see as many and varied entries as they have seen in the past and they're looking forward to another successful and fun contest!
Founded in 1952 and located in Concord, New Hampshire, Duncraft's objective is to bring the joy of backyard birding to wild bird lovers all across the country. Mike Dunn, owner and CEO is constantly inventing and searching for innovative ideas in bird feeding—giving bird lovers years of bird feeding enjoyment, success and satisfaction.
Duncraft Wild Bird Superstore
102 Fisherville Road
Concord, NH 03303
Phone: 603-224-0200
Fax: 603-226-3735