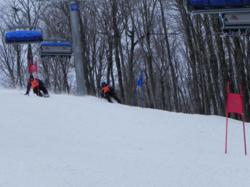 It's so unique and so much fun, people are really starting to get into it
West Dover, VT (PRWEB) March 05, 2012
Almost 60 competitors of all ages turned out for an exciting day of Jack Jump racing at Mount Snow Resort on Sunday, March 4 for the Jack Jump World Championships with local girl Sue Zukatis taking her fifth straight World Title on the women's side. Zukatis and the rest of the field took on a dual slalom course located on the Charlie's Chase trail riding their custom-made Jack Jumps; a single ski with a homemade seat attached to it and the rider uses only his or her feet and balance to navigate the race course.
The actual origins of Jack Jumping are still a mystery, but it is believed that the earliest Jack Jumpers date back to the mid-to-late 1800's and since then they have been used primarily for recreational purposes.
"This event has grown every year since we started hosting the World Championships here at Mount Snow," said Gina Sarlo, the events coordinator, jack jumper and Mount Snow's Base Area Facilities Manager. "It's so unique and so much fun, people are really starting to get into it!"
Link to video from the Jack Jump World Championships: http://youtu.be/d-j1NPYyEiI
The Jack Jump World Championship was one of the many events Mount Snow has on the schedule during the last six weeks of the winter season, which the resort has dubbed Vernal Eternal in celebration of the spring. Included on the schedule are a sting of large festivals and events including the Carinthia Open freestyle competition, Revolution Tour, Bud Light St. Pattie's Day Celebration, Bud Light Reggae Fest and Mount Snow Winter Brewers Festival.
To learn more about Mount Snow's Vernal Eternal celebration, visit vernaleternal.com.
# # #