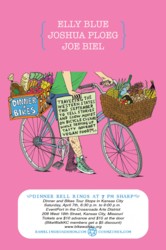 Joe, Elly and Joshua really know how to get people excited about bicycles - I can't wait to see them this year!
Eric Bunch, BikeWalkKC
Kansas City, MO (PRWEB) March 24, 2012
The Dinner & Bikes Tour is traveling the United States to show movies about bicycle culture, and get us inspired for Bike Week while serving gourmet healthy food. BikeWalkKC is hosting this tour as it stops in the Crossroads Arts District. The dinner and movie event is Saturday April 7, 2012 at Event Port. Three nationally known artists; Elly Blue, Joel Biel and Joshua Ploeg will bring you tales from the road and a healthy dinner that can't be beat.
Elly Blue tells tales of the bicycle economy, accompanied by photographic evidence. She publishes a blog and a zine, both called Taking the Lane, and writes regularly about bicycling issues for venerable online news outlet Grist.org.
Joe Biel will show a selection of short films about bicycle culture and activism, including excerpts from Aftermass, his forthcoming documentary about bicycle activism in Portland, Oregon over the last twenty years. Joe has been part of Microcosm Publishing since he started it 15 years ago.
Joshua Ploeg is a traveling vegan chef, who improvises climactic culinary masterpieces. His book In Search of the Lost Taste is a smash hit. He has several cookzines, including the popular Fire and Ice and the brand new So Raw It's Downright Filthy.
Dinner and Bikes Tour Kansas City
-Saturday, April 7, 2012 6:30 p.m. to 9:00 p.m.
-EventPort in the Crossroads Arts District, 208 West 19th Street, Kansas City, Missouri 64108
-Tickets are $10 in advance, $15 at the door and include dinner & entertainment.
Bike Walk KC members get 50% off. If you join at the event, the ticket price is applied to your membership.
BikeWalkKC is the unified voice for active living, promoting a healthy, safe and accessible outdoor experience for all in a vibrant, engaged community. BikeWalkKC is a member-supported organization that works to make Greater Kansas City a safer and more accessible place to walk, bicycle, live, work, and play. Our advocacy programs work with local cities to improve policies and build sidewalks, trails, crosswalks, bike lanes, and more. Our education programs give people the knowledge and skills to walk and to bicycle safely and confidently for transportation, recreation, and fitness. Learn more at BikeWalkKC.org.