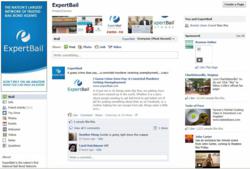 When we first launched the brand almost a year and a half ago, no one would ever have thought that we could amass 5,000 fans yet alone over 15,000.
(PRWEB) March 06, 2012
Is the subject of bail bonds interesting? Does the average person on the street see any value in learning about the bail bond industry? For most of us, the answer to these questions would be a simple "No way," but not for the folks at ExpertBail. Why? Because the team at ExpertBail lives and breathes bail bonds every day, and its network of over 5,000 bail bondsmen are the best in the business. As the nation's first and only nationally branded network of bail bondsmen, ExpertBail set out 17 months ago to change the face of the bail bond industry. So if you tried to tell them that people aren't interested in bail and that you can't educate, inform and entertain people about the bail bond industry, your message would have fallen on deaf ears.
"The bail bond industry is one of the most misunderstood industries out there," says Eric Granof, Chief Marketing Officer for the AIA Family of Companies, the nation's oldest and largest underwriter of bail bonds and creator of the ExpertBail Network. "While it is misunderstood by most, it is also a fascinating subject to almost everyone….that is where the real potential is created."
This past weekend, ExpertBail passed a milestone on Facebook. It surpassed 15,000 fans. "When we first launched the brand almost a year and a half ago, no one would ever have thought that we could amass 5,000 fans yet alone over 15,000," adds Granof. "Social media has been a perfect forum for us to engage and interact with consumers and teach them about bail…and we have done that through great entertaining content…something that there is no shortage of in the bail bond industry."
According to recent Facebook statistics, only 4% of pages on Facebook have over 10,000 fans.
About ExpertBail
ExpertBail is the bail bond industry's first true national bail bond brand. Comprised of the most experienced and highest quality bail agents in the industry, ExpertBail helps consumers reduce the clutter in the bail marketplace and directs them towards a trusted, proven and experienced bail agent in a simple and transparent way. Expert Bail is backed by AIA, the oldest and largest family of bail bond insurance companies. With over 150 years of stability, trust and knowledge behind every bond written in the ExpertBail Network, our focus is on the consumer and helping them through a difficult time. The mission of ExpertBail and its network of agents is not only to meet the expectations of our customers, but to exceed them substantially.
About AIA
The AIA family of companies has been partnering with agents across the country for over a century. Formed in 2003 as an alliance of the surety bail industry's leading companies Allegheny Casualty, International Fidelity and Associated Bond, AIA utilizes a unique "service-focused" approach to management that provides its family of agents with the knowledge, tools and commitment they need to grow their business and succeed. AIA has become the overwhelming industry leader in agent service, national coverage, bail written and number of agents.