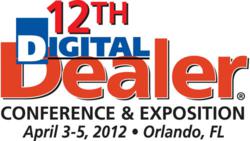 Over 1000+ Dealers and Managers will be in attendance, with over 93 Cutting-Edge Sessions and specialized tracks for Pre-Owned and Fixed Operations Managers.
Nashville, TN (PRWEB) March 07, 2012
Innovative automotive dealers and top industry consultants and trainers will share their expertise and best practices on the latest digital tools for automotive sales and marketing, fixed operations, F&I, and pre-owned departments at the 12th Digital Dealer Conference & Exposition, April 3-5, at The Rosen Shingle Creek Resort in Orlando, FL. The conference will feature 93 workshops, 100 + Technology-Specific Exhibitors, and peer networking roundtables, as well as specialized tracks for dealer fixed operations and pre-owned departments. http://www.DigitalDealerConference.com
More than 1,100 automotive dealership owners, general managers, Internet directors, e-commerce managers, BDC managers, CRM managers, pre-owned managers, F&I managers and fixed operations managers attended the 11th Digital Dealer Conference & Exposition in October, in Las Vegas, to learn how to sell and service more vehicles more profitably. And in total, more than 2,200 automotive retail professionals registered for that conference.
Even more automotive dealers and managers from across the country and around the globe are expected to attend the conference this April to learn about the latest digital tools, technologies, processes, best practices, applications and solutions to boost dealership sales, improve operations and increase ROI.
Ninety three sessions will be offered – designated for Fundamental, Intermediate and Advanced levels to make it easy for attendees to choose the sessions that best fit their needs. Two specialized tracks – for Dealer Pre-Owned and Dealer Fixed Operations – will be featured.
Pre-owned managers – and dealers who want to focus on this profit center – can learn in-depth about issues and best practices for pre-owned during 10 sessions sequentially scheduled over the three-day period.
Here's a sampling of the sessions in the Pre-Owned Track:
Unlocking Potential Used Inventory Treasures from your CRM – Attendees will learn and discuss practical ways they can improve their sourcing for used vehicles using both traditional and progressive techniques. Presenter: Glen Garvin, group general manager, Dominion Dealer Solutions.
The Private Individual – How do we compete with them? Presenter: Tim Deese, founder, Progressive Basics, which began in 1981 as a training company dedicated to training dealers and used car managers to improve the used car department in their dealerships.
Fixed operations managers – and dealers who want to focus on this profit center – can take advantage of the Dealer Fixed Operations track, which will include 10 sessions, sequentially scheduled over the three-day period – all focused on issues of concern to fixed operations managers.
Here's just a sampling of the sessions in the Fixed Operations Track:
How to Create an Online Sales Channel to Sell Parts and Accessories – Learn how to set up a dealership's parts and accessories online sales cycle. Presenter: Clayton Stanfield, senior manager of dealer training at eBay Motors, overseeing all training and industry outreach programs for eBay Motors.
Enhancing the Customer Experience on your Service Drive – How to build trust and loyalty while growing customer pay sales. Presenter: Gary Kalk, president and CEO of Dealer-FX Group, Inc.
The 12th Digital Dealer Conference & Exposition will feature speakers from Internet giants, such as Google and Yelp, including such sessions as:
The Zero Moment of Automotive Truth – Learn about the Zero Moment of Truth, when consumers do their research, get smart about alternatives, read reviews, look for promotions/specials, and comparison shop – all before heading into the dealership. Presenters: Jonika Hoomes, head of Automotive Channel Sales Partnerships in North America for Google and Peter Leto, Dealer Jumpstart Team for Google.
Yelp and Your Business – User generated content websites like Yelp.com are becoming increasingly powerful as consumer guides. Everything you need to know from unlocking your Yelp business tools to managing your online reputation. Presenter: Darnell Holloway, manager of Local Business Outreach for Yelp.
Speakers from automotive industry giants will be featured in general sessions such as:
Know Your Numbers; Measure Your Performance, Improve Your Results – Understanding your metrics and transforming that into action. Learn about best practices that not only help you measure your performance but that can help take your dealership to the next level. Presenters: Howard Polirer, director of industry education for AutoTrader.com and Bill Reidy, director of sales, vAuto.
Win Every Moment: Selling Across the Entire Digital Consumer Journey – Practical insights on online shopper behavior from over 200,000,000 automotive site visits. Presenters: David Winter, vice president, Cobalt Intelligence Center of Excellence and Max Steckler, vice president of advertising, Cobalt.
Attendees at the conference will also be able to participate in the popular Peer Networking Roundtables with other dealers and managers from similar-sized dealerships and operations to discuss best practices and help solve each others' greatest challenges.
Leading dealers, industry thought leaders, and expert consultants and trainers will cover a compelling range of topics in the 93 sessions. Here is just a sampling of the general lineup:
50 Best Practices Any Dealer Can Implement – The best 50 ideas that you can implement from Digital Dealer presented in 50 minutes. Presenter: Greg Coleman is the director of business development for Oxmoor Auto Group in Louisville, KY. That group, in 2011, with five stores, completed 4,088 Internet deals.
Today's BDC Using Mobile Technology Can Generate Income for all Departments – Dealers need to evaluate if a true business development center can assist in generating additional income in sales and fixed operations. Presenter: George Peters is the BDC/e-commerce director for McGeorge Toyota Scion. That dealership won a 2011 Digital Dealer Website Excellence Award.
What More is your Website Hiding? – Technology exists today that reveals valuable market advantages and solves the issue of lost leads with traffic to an automotive dealership's website. Start proving marketing ROI and take back control of your own data with proven best practices from the top OEM franchises in the country. Presenter: Kendall Billman, director of interactive marketing at VinSolutions. He is an industry-leading expert in website consumer behavior, website development, SEO, SEM and Internet marketing to automotive customers.
Using Active Auto Shopper Data to Grow a Proactive Business – By collecting and analyzing every keystroke, page view and click of over 60 million auto shoppers in the market, we now have a better understanding of their behavior, shopping trends, and advertising effectiveness and are able to use this information to make better vehicle sales predictions than ever before. Presenter: Jason Ezell is president and co-founder of Dataium LLC, the largest aggregator of auto shopper behavior data in the industry.
Expert Panel Discussions on Issues Critical to Dealership Success will be offered at the conference, including:
Leveraging Video to Drive Google Organic Search and Website Conversion – Learn how video is driving organic search with Google and website conversion and how to make that work for your dealership. Panel: Phil Sura, UnityWorks Media (moderator); Mike Groves, e-commerce director, Apple Auto Group; Beth Van Story, president, Thinkout Consulting; and Shaun Kniffin, director of Internet sales and e-business development, Germain Motors.
The Makings of a Great Internet Director ­– Lessons learned and tactics tried by top Internet directors to improve their own success. Panel: Joe Webb (moderator) founder of DealerKnows Consulting, an automotive Internet sales training firm specializing in advancing dealers through both on-site and virtual consulting; Panelists: Lisa Jo Swain, director of e-commerce operations, SunStar Autos; Eric Miltsch, e-commerce director, Auction Direct; and Richard Lucy, e-marketing director, Tim Dahle Nissan.
To learn more and register for the 12th Digital Dealer Conference & Exposition at the Rosen Shingle Creek Resort in Orlando, FL, April 3-5, visit: http://www.DigitalDealerConference.com.
ABOUT DEALER COMMUNICATIONS
Dealer Communications is the leading multi-media information source for franchised automotive dealers and managers. Connecting with franchised automotive dealers and managers over ten million times per year, Dealer Communications publishes the monthly print and online editions of Dealer, magazine and Digital Dealer magazine. Online weekly newsletters include Dealer; Digital Dealer; Dealer Fixed Operations; Dealer Pre-Owned; Dealer F&I, and Dealer Sales and Marketing. Dealer Communications also offers the Digital Dealer Webinar Series, with online presentations throughout the year. To see all that Dealer Communications offers, visit: http://www.dealer-communications.com
Dealer Communications also owns and operates the Digital Dealer Conference & Exposition, the ideal education and networking venue for dealer principals, GMs, Internet sales managers, e-commerce directors, BDC managers, CRM managers, pre-owned managers, F&I managers and fixed operations managers. The 12th Digital Dealer Conference and Exposition will be held April 3-5, at the Rosen Shingle Creek Resort, in Orlando Florida. There will be 93 workshops, 100+ specialized technology exhibitors, and dealer roundtables. For more information, visit: http://www.DigitalDealerConference.com