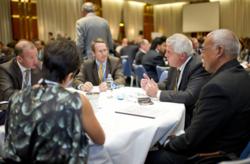 Austin, Texas (PRWEB) March 07, 2012
The second of three regional summits focusing on water rights trading and investment in water resources will take place in Santa Barbara, California, on April 12th & 13th. The events, jointly hosted by American Water Intelligence and WestWater Research, will bring together leaders from industry, finance and government to discuss the commercial opportunities relating to water transfers and water resource development. The Santa Barbara event is titled The Water Resources Investor Event. It will look at business solutions to the water resource issues faced by the State of California and examine the wider topic of water as an investment class.
Jack Ceadel, managing director of American Water Intelligence, believes that the challenge of water scarcity offers significant upside for business and investors that are willing to think creatively.
"It has long been a cliché that water is the 'new oil'. Cindy Wallace Lage, new CEO of Black & Veatch's Global Water Division, said in an interview with our publication last month that water is the 'new gold' and we think this is a more accurate analogy. Investment in both 'wet' water and water infrastructure can provide a strong and steady return over the long term and hedge against wider volatility. This event will explore water as an investment from the perspective of both public and private equity and water risk in the context of the bond markets."
However new water management technologies are where the real action is:
"California is home to very water intensive industries, and technology must come to the fore to prevent the wheels from coming off the apple cart. We are excited to have just added Henrik Skov Laursen, head of the Grundfos Water Technology Centre in Fresno, to the agenda. He will be hosting a round table networking session on entry strategies for disruptive new technologies in food and beverage, as well as sitting on the panel to discuss sustainable water supplies through efficiency and technology plays with David Henderson of XPV Capital and Chris Berkner of PureSense."
The Water Rights & Trading series places a large emphasis on networking and interaction among delegates, and the events offer opportunities for legal professionals to gain CLE credits.
Events:
Water Rights & Trading Summit: California, April 12-13, Bacara Resort, Santa Barbara, CA
Water Rights & Trading Summit: Texas, October 4-5, The Houstonian Hotel, Houston, TX
Further details:
Megan Wieding at mw(at)globalwaterintel(dot)com
Monique Hardy at hardy(at)waterexchange(dot)com for information on programming
*American Water Intelligence (AWI) is based in Austin, Texas, and publishes American Water Intelligence, a national monthly magazine for professionals in water and water-related industries. In addition to the regional summits above, AWI also hosts the premier financial conference for global water industry. The Global Water Summit Brave New World will be held in Rome on the 30th April to the 1st May. For more information please visit http://www.watermeetsmoney.com.
*WestWater Research (WWR) is the premier advisory firm in the water rights industry. WWR specializes in water transaction advisory services, water investment and marketing services, water valuation, and water resource economics. Over the last 10 years, WestWater has forged new approaches to water markets through the development of innovative contracting solutions, unique marketing approaches and in-depth water trading analyses. WWR maintains the largest high quality database of water right transactions covering the western U.S. to assist private and public sector clients in making well-informed decisions.
823 Congress Avenue, Suite 1000, Austin, Texas 78701
http://www.waterrightstrading.us/california.html
# # #