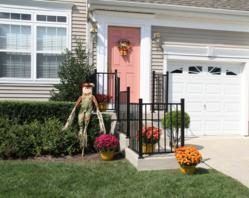 Egg Harbor Township, NJ (PRWEB) March 07, 2012
Railing Dynamics, Inc. announces the release of its new product line, Metal Works, the company's third major railing line. Metal Works railing, a pre-assembled steel component system, features superior strength and security, fast and easy installation, and a durable, triple-coated finish unlike anything on the market.
According to Chris Schneider, Director of Product Development, "Different regions of the country prefer different kinds of products: different materials, textures, and styles. When a few of our key Distributors asked for a metal system, we began development fairly quickly." Schneider states that this new system, has been in the works for quite some time, and is only the beginning of the metal railing frontier for RDI. "Feedback from our Customers has been tremendous. We are excited to bring this new product to market and are anxious to grow the line with additions that make sense to our Distributors and their respective markets."
The Metal Works brand currently consists of the Excalibur™ line, although the company comments that future lines within Metal Works are planned. Currently, development is focusing on expanding Excalibur, with other colors and baluster styles, and several unique accessory options.
The Metal Works Excalibur railing is offered as pre-assembled, factory-welded rail panels. Posts are supplied with pre-assembled, factory-welded, brackets. The panels are available in 6', 8', and 10' level and 6' and 8' stair sections, in heights to make 36" and 42" high railing.
Since 1989, Railing Dynamics, Inc. has been a leading manufacturer of low-maintenance building solutions. RDI's products include the Endurance® Original, Deck, Porch and ADA continuous handrail lines, Titan® vinyl-clad metal railing systems, and Metal Works™ pre-assembled, metal railing. The company's products are marketed through a nationwide network of preferred distributors, with support from RDI's national sales force and hands-on factory training. For more information on RDI, or to find your nearest distributor, call (877) 420-7245 or visit http://www.rdirail.com.