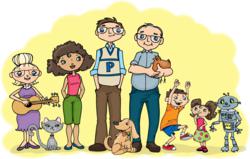 The songs are about the everyday activities of children and instill good habits of cleanliness, respect, and family values
Los Angeles, CA (PRWEB) March 05, 2012
Former CEO and global consultant, Larraine Segil, reinvented herself after choosing to leave the corporate universe for her grandchildren's universe. Encouraged by her grandchildren's delight in her children's songs and stories, Ms. Segil created her Rockin' Grandma Music persona and released a CD of 14 children's songs and story books to accompany them.
Families can now download Rockin' Grandma Music's trilogy of children's books entitled the Adventures of Sam, The Broken Robot with The Pretend Family At The Little Farm, instantly. Sam is a robot with a handicapped arm and through his adventures he teaches children how to solve conflicts and other life challenges in positive and constructive ways. The books come with narrated downloadable mp3 files that include music accompanying the story as it is told.
These stories involve Sam's family members and take place on the Little Farm on which his grandparents live. "Since my husband and I actually do live on a little urban farm, many of Sam's stories come from taking care of animals and making cheese from our goats milk, just as we do with our grandchildren," says Segil.
Though author and composer, Larraine Segil, is a newcomer to the children's book and music industry, she is a very accomplished author of several business books published by leading publishers like Random House, a novel published by Penguin Books, and two cookbooks, with a third one geared toward cooking with kids due out in the Spring of 2012. Segil, now an active and dedicated grandmother, great aunt and godmother to all the children in her life has capped her ever-changing career with this most gratifying passion.
Segil wrote and co-composed the original Rockin' Grandma Music CD of songs after being inspired by her grandchildren's response to her made-up songs. "Michael Lyn, my guitar partner, was instrumental in helping me create, produce and play the music for my song ideas, lyrics and stories developing this album that the whole family can enjoy," says Segil.
"The songs are about the everyday activities of children and instill good habits of cleanliness, respect, and family values," Segil explains.
The 14 songs on Rockin' Grandma Music's CD include, The Broken Robot Song, First Day At School Song, Dancing in My Room, and many other songs children are sure to love.
To complement the music RockinGrandmaMusic has created a line of t-shirts and hats with characters from her books about Sam, The Broken Robot and His Pretend Family. They include quotes from Sam and are available online.
About RockinGrandmaMusic -- Larraine Segil (aka Rockin' Grandma Music) spent much of her adult years leading entrepreneurial companies and advising multi-national corporations. She left full time business management in 2007 and she now spends time on public and private boards of directors, giving keynotes on business topics around the world and, most importantly, with her grandchildren, on her urban farm and in the kitchen. On her blog http://rockingrandmamusic.com/blog she offers children's music and storybooks about Sam, The Broken Robot and his Pretend Family. Her grandkids love her music and stories and so will your children. She also is an advocate for cooking with kids and mealtimes together as a family as often as possible even for two career households, and offers her cookbooks and FREE recipes. Her Educational Online Games portal gives children a fun way to win real prizes while learning geography, math, internet safety, real world anti-bullying skills and financial literacy.