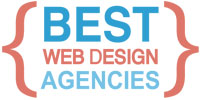 (PRWEB) March 06, 2012
The independent authority on web design and development, bestwebdesignagencies.com, has released their list of the best web strategy companies in the web design and development industry for the month of March 2012. The list of the best web strategy companies has been created through the use of a meticulous evaluation process covering thousands of companies producing web design and development services. The best in the evaluation which produce exceptional website strategies are included in the rankings.
The Ten Best Web Strategy Companies for March 2012 are:
1) MatchBox Branding
2) Breworks Design & Communications
3) Intense Design
4) BlackPig
5) HypeLife Brands
6) Lounge Lizard
7) Blast Radius
8) 1EZ consulting Services, Inc.
9) InSite Interactive
10) Twice Creative
The results of the evaluation are published on bestwebdesignagencies.com each month featuring the latest changes in technology, achievements, and proprietary advantages of each web strategy company in the industry. The process for evaluating web strategy companies includes the use of five areas of evaluation, customer references, and various sources for industry news and information. Customer references are asked various general and specific questions about the services which were provided to them in order to determine their overall effectiveness in communicating with their clients before and after services are rendered.
ABOUT bestwebdesignagencies.com
bestwebdesignagencies.com is an independent research firm with a dedication to providing a list of the best web design companies and web development firms in the industry. Through meticulous research and developed methods for evaluating and ranking companies, bestwebdesignagencies.com has provided customers of web design and development services with a great resource to find a top performing web design company. Evaluations are carried out by a specialized team of researchers who examine thousands of applicants each month. bestwebdesignagencies.com provides their rankings free of charge to companies and individuals searching for a quality web design firm or looking for other design and development services with updates being provided on the first of each month. The website also provides information and resources for those looking to learn more about web design and development services.
Web strategy companies interested in applying for the rankings can visit:
http://www.bestwebdesignagencies.com/rankings/web-design-agencies/apply-for-ranking
For the list of the best web strategy companies visit:
http://www.bestwebdesignagencies.com/rankings-of-best-web-strategy-companies