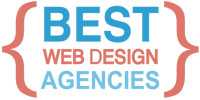 (PRWEB) March 06, 2012
bestwebdesignagencies.com, the independent authority on web design and development companies, has released their rankings of the best branding companies for March 2012. Branding agencies featured have undergone a meticulous evaluation process which identifies the top service providers and compares them to produce a list of the best. A dedicated research team utilizes a proprietary methodology aimed to identify and evaluate the best branding companies with a history of creating strong brand recognition for their customers.
The Top 10 Branding Companies for March 2012 are:
1) Crea7ive Web Designs
2) Pixel Vector
3) Pixel8 Limited
4) Designsensory
5) Pigeon
6) FutureBrand
7) HypeLife Brands
8) Weblinx Incorporated
9) Killian Branding
10) The Branding Company Inc.
bestwebdesignagencies.com provides a unique approach to evaluating and ranking branding companies who provide branding services by identifying key aspects associated with the best services in the industry. This approach, the evaluation process, involves the use of a set of evaluation criteria and various other verticals in order to benchmark and compare the top performing service providers. Other verticals included in the evaluation of branding services include the evaluation of business practices and interaction in the web design and development industry.
ABOUT bestwebdesignagencies.com
bestwebdesignagencies.com is an independent research firm with a dedication to providing a list of the best web design companies and web development firms in the industry. Through meticulous research and developed methods for evaluating and ranking companies, bestwebdesignagencies.com has provided customers of web design and development services with a great resource to find a top performing web design company. Evaluations are carried out by a specialized team of researchers who examine thousands of applicants each month. bestwebdesignagencies.com provides their rankings free of charge to companies and individuals searching for a quality web design firm or looking for other design and development services with updates being provided on the first of each month. The website also provides information and resources for those looking to learn more about web design and development services.
Branding Companies interested in applying for the evaluation and ranking service can visit:
http://www.bestwebdesignagencies.com/rankings/search-engine-marketing-agencies/apply-for-ranking
To view the list of the Best Branding Companies visit:
http://www.bestwebdesignagencies.com/rankings-of-best-branding-agency-companies