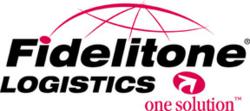 Wauconda, Ill. (PRWEB) March 06, 2012
Fidelitone Logistics, an industry leader in third-party logistics and supply chain performance has been awarded the 2012 Supply & Demand Chain Executive Pros to Know award by Supply & Demand Chain Executive magazine.
"It is an honor that Fidelitone's Warehouse Innovation (WINN) team has been recognized as a leader in supply chain among our industry peers," shared Chuck Perry, Vice President of Operations & Client Solutions Group and WINN team leader. "To be selected from a group of over 300 entries is certainly an accomplishment."
Josh Johnson, President of Fidelitone adds, "Fidelitone recognizes that it is not enough to be operationally excellent. As our clients' business challenges evolve, our solutions need to provide ever-growing value and client satisfaction. Our Warehouse Innovation team is an example of how Fidelitone strives for continuous improvement in order to deliver on our mission to be one solution for developing satisfied customer every time."
Final recipients are featured in the cover story of the March 2012 issue of Supply & Demand Chain Executive, as well as online at http://www.sdcexec.com/news/10628934/supply-demand-chain-executive-announces-2012-pros-to-know.
For more information on the specialized warehousing, fulfillment or supply chain solutions available from Fidelitone's, please visit http://www.fidelitone.com.
About Supply & Demand Chain Executive
Supply & Demand Chain Executive is the executive's user manual for successful supply and demand chain transformation, utilizing hard-hitting analysis, viewpoints and unbiased case studies to steer executives and supply chain management professionals through the complicated, yet critical, world of supply and demand chain enablement to gain competitive advantage. Visit Supply & Demand Chain Executive on the web at http://www.SDCEXEC.com.
About Fidelitone Logistics
Fidelitone Logistics is an industry leader in 3PL and supply chain performance that delivers value-added solutions for business partners and their clients. As a logistics innovator since 1929, expertise includes: fulfillment, last mile delivery, supply chain management, transportation management and warehousing. Headquartered in Chicagoland, Fidelitone Logistics is a privately-held company with more than 25 locations and 500 employees throughout the United States. To date, more than 1 million shipments are managed by Fidelitone Logistics each month, for a variety of customers ranging from Fortune 100 companies to start-up organizations. For more information, please visit http://www.fidelitone.com.