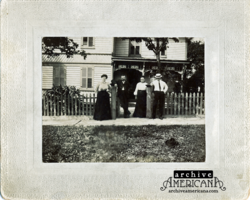 The original idea was, 'If the web had been around 100 years ago, what would it have been like?'
Gilbert, Arizona (PRWEB) March 06, 2012
"Rediscover your history" is the tagline for thirteenth-generation American Nancy J Price's latest venture, ArchiveAmericana.com. The new website offers hundreds of vintage articles and images culled from US history, pairs them with timely illustrations, then presents them in an attractive, categorized and searchable magazine-style format.
Price first realized the concept for ArchiveAmericana.com in mid-2011 when, while researching her own genealogy, she discovered what she calls "a treasure trove of fantastic, forgotten content."
"The original idea was, 'If the web had been around 100 years ago, what would it have been like?'" she says. "Basically, we're seeking out the most relevant and interesting historical news stories, articles and images, and putting them into a modern framework." The concept has been expanded since then, and now covers hundreds of different topics from the 1830s to the 1970s, with an emphasis on the Victorian and Edwardian eras.
"For the generations that came before us, newspapers were their TV, their internet -- their connection to the world beyond their doorsteps," says Price.
In 1999, Price co-founded SheKnows.com, now the largest lifestyle website for women (per comScore), and served as Executive Editor for more than a decade. Price's years of experience building SheKnows and numerous other websites, as well as acting as Editor-in-Chief of several print magazines, helped her hone the ability to understand what engages and intrigues readers.
The content of ArchiveAmericana.com has been thoughtfully culled from throughout American history, and sourced from massive collections of newspaper and magazine pages, along with memorabilia from her own stash of thousands of vintage postcards, photos and other mementos.
In addition to presenting major news features -- such as the Titanic sinking, the moon landing, the assassinations of both Lincoln and Kennedy -- ArchiveAmericana.com also includes everything you'd expect to find on a general-interest website of today: innovations and inventions, home and money, fashion and beauty, sports and beyond. The site also has a wealth of heirloom recipes -- antique cooking how-tos for dishes long forgotten, and those fondly remembered.
Additional article collections provide more nostalgic food for thought: the earliest reports of major milestones and events as they happened, musings on how our ancestors imagined the future, and their take on what was already history.
In the case of early America, there are literally millions of records available, and while entire newspaper pages have been photographed, most of them have not been converted to text. Finding specific information is a sometimes difficult and daunting task. Price notes that even some major news stories have been seen by only a few over the last century. "For instance, we have the first complete online transcript of the San Francisco newspaper published the day after the 1906 earthquake," says Price. "While the city was burning, reporters, editors and pressmen were working -- yet many of those stories weren't available as text until now." The site also features a detailed first-person account of a woman's desperate escape from the Titanic.
When archaeologists find an ancient civilization, such as the Mayan ruins or Pompeii in Italy, the primary focus is to understand how those people lived. Price says the same curiosity holds true today when it comes to discoveries we make about our own families.
Whether you want to an inside view of a famous event or just some new perspective on the day-to-day life as it was way back when, look beyond the textbooks. Take a trip to the past and rediscover your own history using the simplest form of time travel: ArchiveAmericana.com. (No TARDIS required.)

- - - - - - - - - - - - - - - - - - - - - - - - - - -
About Synchronista
Synchronista LLC is a boutique creative company, skilled in web site development, web design, photography, writing & editing, brand creation, marketing, public relations, publishing and other media pursuits. In addition to ArchiveAmericana.com, the company's websites include ClickBabyNames.com, a searchable database of 28,000 baby names and interactive naming tools; informational Q&A site FindersFree.com; downloadable chore checklists and organization tips at ChoreTell.com; and PrintColorFun.com, which offers free printables and coloring pages.
Past projects from Synchronista's principal, Nancy J Price, can be found across the web, and include ePregnancy.com (now owned by Toys R Us), PregnancyDaily.com (now part of Disney's Baby Zone), and SheKnows.com, recognized as one the internet's top properties for women today per comScore. Find out more at synchronista.com.
- - - - - - - - - - - - - - - - - - - - - - - - - - -
Media/Press Contact:
Andy Warycka
Marketing Director
Synchronista LLC
480.544.4946
andy -at- synchronista.com