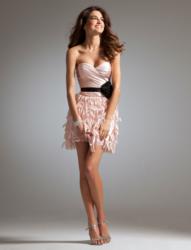 We are especially excited about this competition because it allows us to not only engage but also educate girls everywhere about what options are available to them when searching for a new dress," said Sunny Adrian, President of Promgirl.net
Philadelphia, PA (PRWEB) March 07, 2012
Promgirl.net has recently announced its newest online competition, a picture scavenger hunt designed to both entertain and educate prom girls worldwide. Through their Facebook page Promgirl.net will be releasing close-up photos of sections of new designer prom dresses and gowns, participants will then be given various clues to help them identify the dress and track down the full image. Girls who track down and identify all the dresses in the scavenger hunt will be eligible for prizes such as free dresses or jewelry and gift certificates good towards any of the thousands of prom dresses and ball gowns Promgirl.net has in stock.
The clues however will not be as easy as the manufacturer of the dress or the name of a celebrity who has been seen in it. Instead Promgirl.net will offer clues regarding the identity of each mystery dress based on what type of skirt or bust line the dress features and even what kind of body type the dress is most flattering on. For example a clue might let girls know that a particular dress is best suited for apple or pear-shaped bodies, meaning that it is most likely more loose fitting around the hips and probably an A-line gown. However if the clue recommends the dress for the more sought after hour-glass shaped lady then it is safe for contestants to assume they are looking for a very form fitting gown.
The benefit of these style specific clues is that any girl participating in the scavenger hunt will be encouraged to learn as much as they can about various dress styles and about dressing for specific body types including their own. As a result, even participants who do not qualify for the prizes will have learned a thing or two about formal dresses just by competing and therefore have a better idea of what to look for when it comes time to pick their special dress.
"We are especially excited about this competition because it allows us to not only engage but also educate girls everywhere about what options are available to them when searching for a new dress," said Sunny Adrian, President of Promgirl.net. "The more young ladies know about selecting a dress that works with their body type, the better their chance of buying a dress that they truly love and feel beautiful wearing. And here at Promgirl.net we want every prom girl to feel like a princess on her special night."
To participate in this new competition or any of Promgirl.net's other promotional games and contests all that girls need to do is like Promgirl.net on Facebook and keep an eye out for the first scavenger hunt picture.
Promgirl.net is an Internet retailer of prom dresses and gowns, formal and cocktail dresses, eveningwear and special occasion attire located in Philadelphia. For more information contact Promgirl.net at 1 (215) 843-5402 oe visit them online at http://www.promgirl.net