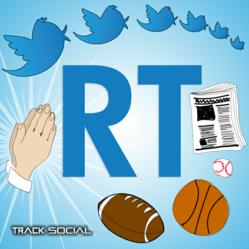 (PRWEB) March 06, 2012
Track Social used its proprietary Social Media Leaderboard technology to analyze Retweet activity for major brands on social media.
Savvy consumers are often wary of brands spamming across the social media platforms. But they're increasingly open to receiving content from people they know. That's why Retweeting – in which a Twitter follower forwards someone else's Tweet to his or her own set of Twitter followers – is so potentially valuable for brands.
It is also valuable because a Tweet can get Retweeted by a follower, then any of its followers can Retweet that original Tweet, and so there is the potential for a cavalcade of viral messaging that turns a brand into the next @AngiesRightLeg.
Not only does it mean the content gets self-distributed to an exponentially wider audience, but the messaging is being delivered to consumers by people they trust, making them significantly more likely to engage with content.
The concept of sharing is embedded in all social networks, and much of the internet, however in Twitter it is far more implicit to the very concept of the platform.
Track Social has dug deep into its Twitter analytics to find out just which Twitter accounts see the most Retweet action per day. Lo and behold the Retweet Leaderboard:
1. Joyce Meyer Ministries
2. ESPN
3. Joel Osteen Ministries
4. Miami Heat
5. Breaking News
6. NBA
7. CNN Breaking News
8. Los Angeles Lakers
9. Chicago Bulls
10. BBC Breaking News
At First Glance: Sports dominate this leaderboard.
[Note: Track Social tracks Brands only, not individuals. For more Track Social Leaderboards go here ]
Twitter is all about spreading the latest news, fast. That's why Twitter's up-to-the-minute headline stream is the perfect medium for sports and news. No surprise then that of the top ten (non-celebrity) brands on Twitter, five were sports-related, and ESPN, the leading sports news cable network, came in at number two.
Engaging with media-addicted sports fans is perfectly suited to Twitter's format. Besides offering an instant portal to ESPN content through headline links, photos and video posts, ESPN makes sure to generate fan interaction – and get the Retweets flowing – by regularly asking followers to jump into the conversation. Not such a difficult task given that participation is written into sports fans' DNA.
ESPN's Tweets run the gamut from the sublime: "He's 5'9 and DUNKS over anything" to, yes, the ridiculous: "What would make for the best #OfficeCombine drill? Reply with the hashtag #OfficeCombine. We'll RT (retweet) our favorites."
Keeping fans close to the action – with scores, plays, trades, and highlights – is what Twitter does best. NBA team Miami Heat came it at number 4 while the Chicago Bulls showed up at number 9. Both teams post upwards of 15-25 posts per day and load them up with pictures and player videos: "Joakim Noah dunks to record his 1st career triple double http://bit.ly/btvpotw."
In just the past few years, Twitter has stolen the thunder from radio stations and television news broadcasters to become everyone's primary go-to place for the most current events. Where did most people find out about Whitney Houston's death? That's right – Twitter. Three news organizations on the Leaderboard – Breaking News (an aggregate of many different news feed sources), CNN, and BBC Breaking News rank in at numbers 5, 7, and 10 respectively. These sources tend to rely more on the content of the stories themselves to motivate Retweeting, allowing followers to share with their followers, and more often than not, allowing these Tweets to become trending topics.
But perhaps the most surprising entry in the top ten comes in at number one: Joyce Meyer Ministries is the evangelical preaching and publishing organization of Fenton, Missouri-based preacher Joyce Meyer.
Catering to a largely female following, the posts (about four to six per day) range from cautionary wisdom: "The sooner you learn that feelings are fickle, the better off you'll be" to motivational exhortation: "If you're too busy for God then it's time to change your schedule." They also include the occasional Bible verse and update on where Joyce will be appearing next.
Given the lack of proprietary content coming through her feed (there's nothing particularly exclusive about the Psalms), the success of Meyers' Twitter strategy tells us something about the attraction of social media platforms like Twitter. The real power of this technology is to allow a personality (who would otherwise never be able to engage with one of "the masses") to speak directly into a person's daily life.
And that should say something about the power of social media platforms like Twitter to erase the distance between "us" and "them." Social media users are increasingly comfortable with, and, indeed, increasingly demand a level of personalized interaction. Not just from preachers, or celebrities, but from brands as well. Because the goal of all this technology really is to connect – not just to ideas or entertainment or "content" but to other people – in a meaningful way.
Make the connection – and the Retweets will follow.
About Track Social
Track Social monitors, aggregates and analyzes the Social Media accounts of thousands of businesses across multiple social media platforms. It operates around the clock, collecting millions of data elements from social media platforms such as Facebook, Twitter, YouTube and LinkedIn.
For more information about Track Social, please visit http://tracksocial.com/
About Sprokkit
The maker of Track Social, Sprokkit, is a marketing agency based in Los Angeles, California. It prides itself on fusing the logical with the inspirational, and generally making sense out of a world full of nonsense.
For more information about Sprokkit, please visit http://sprokkit.com/