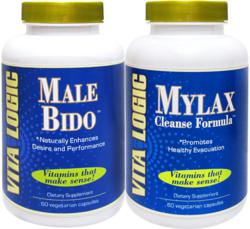 "These two new Vita Logic Formulas are going to meet a huge demand in two important supplement categories", reported Kelly Clonts, Director of Education.
Columbus, GA (PRWEB) March 07, 2012
The makers of the best-selling multi-vitamin Vita Logic Daily Extra, has launched two new products: MyLax Cleanse Formula and Male Bido, a new libido enhancement supplement for men that naturally enhances desire and performance. These two exemplary products were formulated by 2010 Clinician of the Year, Dr. Jan McBarron, M.D., N.D. to complement the 43-product Vita Logic line.
The Vita Logic MyLax Cleanse Formula offers Fiber and Probiotics (beneficial bacteria) with primary laxative support and soothing herbs for individuals experiencing digestive complaints especially sluggish elimination. The stimulating laxatives include Senna, Aloe and Cascara sagrada. Fiber sources from Psyllium and Flax seeds also provide demulcent mucilage to soothe the digestive tract and promote a healthy probiotic environment (prebiotic effect). Further herbal support comes from the famous digestive tonic Licorice. This also helps lubricate the digestive tract alongside Aloe vera and Coconut oil. Coconut yields antimicrobial support from Caprylic acid naturally found alongside Medium Chain Triglycerides (MCTs). This is further intensified with Black Walnut hulls to promote a synergistic bowel cleanse with the laxative action from the new MyLax Cleanse Formula.
The Vita Logic Male Bido, was formulated to naturally enhance desire and performance for men. Stress affects most adults today and this impacts energy levels, quality of sleep and concentration, while also reducing one's overall vitality, libido (sex drive), and stamina. Typically, starting at age 30, testosterone levels begin to decrease for men. This drop in the primary male sex hormone results in many negative consequences. Improper cardiovascular function and blood sugar levels are also leading contributors to male impotence. Furthermore, the medications used to help control cardiovascular concerns including blood sugar may cause loss of sex drive as well as decreased male performance.
Men should not suffer with decreased libido or performance simply because they are getting older. It is prudent to take a supplement to naturally enhance sex drive and performance with no known side effects. Vita Logic's Male Bido when taken over time naturally helps restore sex drive as well as enhance performance. Male Bido uniquely combines adaptogenic herbs Ginseng & Rhodiola to support stress response with an emphasis on testosterone supportive Fenugreek and other cardiovascular tonic antioxidants, Garlic and Grape seed extract. This is all complimented with the famous antioxidant Turmeric. Most importantly, time tested aphrodisiacs are the foundation of this synergistic formula including Tribulus, Tongkat Ali & Epimedium (aka Horny Goat Weed).
Historical and successful use of traditional herbs alongside proven ingredient research is the foundation to Vita Logic's success. All Vita Logic Formulations are intended alongside a healthy lifestyle with a complete daily multivitamin/mineral, such as Vita Logic's best seller Daily Extra.
About Vita Logic Vitamins
Founded in 1994, Vita Logic was established with the mission to produce supplements that would meet the highest standards of quality and give the customer the best value for their money. What started with the formulation of the multiple vitamin and mineral supplement, Daily Extra, has now grown into a family of products addressing various health needs. The formulary design team includes a board-certified medical doctor, allowing Vita Logic to stay on top of the latest research and keep customer safety a top priority. Being a member of the NPA, Vita Logic Vitamins invests in unsurpassed quality of their products. To visit the company's website, go to http://www.vitalogicvitamins.com.
###