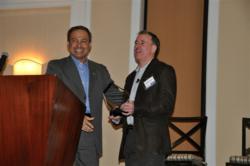 Newport Beach, Calif. (PRWEB) March 07, 2012
VeriFacts Automotive Recognizes Role Models in Aviation, Healthcare and Law Enforcement
The Only Independent Onsite Quality Verification Service for the Auto Collision Industry Awards Others in Their Industries for Excellence
It's not often a company will pay homage to others in different industries for their good work but that's exactly what VeriFacts Automotive, the only independent onsite quality verification service for the auto collision industry, did at its Fix it Right – Fix It Smart Symposium Feb. 23-24.
"It's our job to ensure collision repair centers provide the highest quality repair and safety standards possible," said VeriFacts Automotive CEO Farzam Afshar. "So when I see others who stand out in their industries for excellence, I'm inspired by them and want to let them know there are those of us out there who appreciate them."
Afshar, a thought leader and progressive entrepreneur, presented three "Role Model and Safety" awards at the Symposium to the following individuals:

Dr. E. David Spong: Dr. Spong is the former president of Boeing, and was awarded because of his work within the aerospace/aviation industry. He is responsible for setting maintenance and repair standards used today that not only save money but ensure quality passenger safety. He is the only recipient of the Malcolm Baldrige National Quality Award for service from two different presidents (Clinton and George W. Bush). Today, he provides guidance on leading organizations in the application of the Malcolm Baldrige criteria for Performance Excellence and is an immediate past chairman for the American Society for Quality (ASQ).
Dr. William Buchanan Orthopedic Surgeon, Kaiser Permanente: Dr. Buchanan is also a volunteer for the Los Angeles Sheriff's Department's Air Rescue Program and risks his life consistently to help others. He implemented practices he learned from the LASD Aero Bureau in Downey, Calif. and influenced Kaiser culture to be what it is today. As a result, Kaiser Permanente has been recognized for the following:
o Kaiser Permanente maintains a top four-Star Rating on California's Annual
Clinical-Quality Report Card for 2009, 2010 and 2011. It is the only health plan in California to earn this rating – the highest possible - for overall quality of care in the Health Care Quality Report Card from the California Office of the Patient Advocate.
o Kaiser Permanente Medicare plans in California received an overall
rating of five stars, the highest rating from the Centers for Medicare &
Medicaid Services for 2012.
Los Angeles County Sheriff Lee Baca: Awarded to the Los Angeles Sheriff's Department's Aero Bureau, in recognition for the effective implementation of its Aviation Safety
Management System.
"Through these role models, we can show the stake holders in the collision repair industry that we can learn from other companies and organizations how to provide a quality and safe repair that is economical with faster turnaround time to consumers," Afshar added.
About VeriFacts Automotive
VeriFacts Automotive was originally founded by Farzam Afshar and Mark Olson in 2002 to address the implementation of technical information within the collision repair industry. Committed to ensuring that collision repairers have the correct information and skills necessary to repair today's diverse and complex vehicles, VeriFacts is recognized as one of the industry's only on-site, hands-on coaching and quality assessment solutions available to collision repair and claims professionals.
VeriFacts' repair methodologies, technical competency and professional integrity position it to provide a wide array of valuable services to the collision repair, insurance and manufacturing communities.
For more information, please visit http://www.verifactsauto.com or call (800) 381-3447
Contact:
Jarrod Holland / HHPR
910.431.3322
jarrod(at)hhpr(dot)biz
# # #