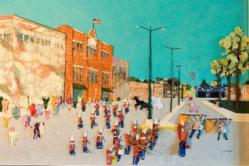 In "Our Band," an artwork of the historic Minden Opera House and town square on parade day, we celebrate the pride in a city coming together and the abundant talent that is shared with each other," said origami collage artist Linda Stephen.
Lincoln, NE (PRWEB) March 07, 2012
It is Sandhill Crane migration time in Nebraska. In Japan, the crane is the symbol of long life and fidelity. During March, artist Linda Stephen presents four events for lovers of origami, cranes and Japanese paper arts. All events are free and open to the public.
March 8 4:30-5:15 Origami Workshop, Japan Festival, University of Nebraska
WHERE:Heritage Room, Nebraska Union, 14th & R, Lincoln. Sponsored by the Japanese Program of the University of Nebraska–Lincoln and the Consulate General of Japan-Chicago, the Japan Festival 2012 also includes a Japanese calligraphy workshop and Japanese movie.
March 1-April 15 CraneFest Solo Exhibit, Minden Opera House, Minden, NE.
DIRECTIONS: Exit 279 off I-80, 13 miles south on Highway 10 at 322 E. Fifth St. on the historic town square. The 120-year-old restored opera house is just 10 miles from the Rowe Audubon Center (great area for seeing cranes any time of day). Combine nature, art, culture and history in one day trip.
WHAT: 20 origami collage landscapes by Linda Stephen; origami crane earrings, framed prints and greeting cards.
March 6-April 1 CraneStorm at Museum of Nebraska Art, Kearney
WHERE: 2401 Central Ave. Kearney, NE.
WHAT: Group exhibit of crane art in support of the Brain Injury Association of Nebraska includes Linda Stephen's "Origami Dancing Cranes: A study in color"
March 31 4:30-6:30 Artist Reception and Installation of "Our Band"
WHERE: Minden Opera House Art Gallery. Exit 279 off I-80, 13 miles south on Highway 10 at 322 E. Fifth St. The historic town square and 120-year-old restored opera house is just 10 miles from the Rowe Audubon Center. Phone: (308) 832-0588
WHAT: Public reception to celebrate the installation of "Our Band" in the Minden Opera House collection. Featuring the Minden Opera House, 1891, and the historic Kearney County Courthouse square, "Our Band" is an original artwork honoring community and is on permanent display in the Minden Opera House lobby. This 3 foot by 4 foot framed art incorporates hundreds of 3-D paper sculptures – from trumpets and trombones in a marching band to trees and parade watchers – folded from handmade Japanese papers.
Nebraska artist Linda Stephen is the Artist in Residence at the Art Gallery of the historic Minden Opera House during CraneFest 2012 March 1 to April 15. Her solo art show includes 20 framed origami landscapes inspired by the Sandhill Crane migration, rural Nebraska and the sense of community found in small towns. The exhibit also includes small gift items such as Linda Stephen's origami crane earrings and note cards.
Origami is the Japanese art of paper folding.
The art gallery at the Minden Opera House is open daily 10 a.m. to 4 p.m. Monday to Friday and before theater shows. Tours of the historic opera house are at 11 a.m. and 1 p.m. daily. All artwork is available for purchase.
About the Artist
Linda Stephen's 3-D paper collage works are a fusion of Japanese and modern aesthetics and incorporate an array of colors, paper textures and intricate origami details. Fluent in Japanese and passionate about Japanese paper, Stephen lived and worked in rural Japan for six years. She first studied Japanese art and culture in Japan in 1990 through a scholarship from the State of Michigan.
Her commissioned origami art landscapes are now part of public and private collections in hotels, schools, city halls, opera houses, and corporations in Japan and the U.S. Her commercial art projects range from an origami dollar bill commercial for Tobacco Free Nebraska to the JW Marriott Hotel's "sister city" collection in Grand Rapids, Mich.
Stephen also works with communities and schools to produce collaborative public artworks – combining workshops with art creation.
See more at http://www.lindastephen.com.