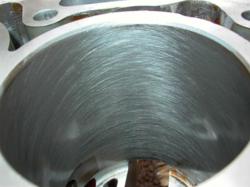 (PRWEB) March 08, 2012
Brush Research announces a unique engine hone for the engine rebuilding process on 3.3 liter, 230-hp, 6-cylinder EG33 engines from Subaru. The product is used by hobbyists and full-time automotive restoration specialists as part of the engine rebuilding for the EG33 engine, which is often installed in Volkswagen Vanagon, Wesphalia Camper and Westy Vehicles.
For EG33 engine rebuilds, one of the final, yet critical, steps is carefully cleaning the case halves. To hone cylinders, many enthusiasts and professionals utilize a 3 ¾ inch, 220 grit (fine), American-made Flex-Hone Tool® from Los Angeles-based Brush Research Manufacturing.
The concept is to clean and renew the cross-hatch pattern (from the original factory honing) on the cylinder bores.
The Flex-Hone Tool is a resilient, honing tool with a soft cutting action. The abrasive globules are bonded to the ends of flexible nylon filaments. Each has independent suspension that assures the cylinder hone to be self-centering, self-aligning to the bore and self-compensating for wear.
Deglazing with an engine hone creates a roughly 45 degree angle crosshatching of tiny grooves in the cylinder wall to eliminate skating. The crosshatch pattern created by the honing tool is important for ring wear, ring rotation, and even piston groove wear.
Another reason to hone cylinders is for plateau finishing. The purpose of plateauing is to remove loose, cut, torn and folded material within the cylinder, create valleys and remove peaks that would otherwise damage rings or seals.
The result is that more lubricant is retained, improving engine startup and performance.
The Flex-Hone can be used in any rotating spindle, including hand drills. Every application is different, but generously lubricating the engine hone with honing oil and applying 30 to 60 strokes is recommended for best results.
After honing, the cylinders can be cleaned, dried, and then lightly coated with light oil. Flex-Hone customers like Caterpillar use this technique to clean cylinder walls after honing.
Available in sizes ranging from very small diameter hones (4mm) to those up to 36 inches or more in diameter (a size appropriate for large engine cylinder bores), engine hones can be custom designed by Brush Research to the size, shape and abrasive grit to fit any application's needs.