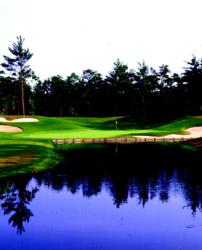 I'm very pleased to have the opportunity to acquire Willowbend. As someone who was there at the very beginning of Willowbend, being given the chance to take over the stewardship of the club and community is something that's very gratifying.
Mashpee, MA (PRWEB) March 06, 2012
It was announced today that Paul Fireman, owner of Willowbend Country Club, has reached an agreement to sell Willowbend and its remaining residential real estate to Southworth Development LLC of Newton, Mass.
Southworth is a leading developer of residential resort-styled communities, with properties in the U.S., Scotland and The Bahamas. Southworth is a privately held firm owned by David Southworth of Boston and Joseph Deitch of West Palm Beach, Fla.
David Southworth began his residential development career as Fireman's business partner, serving as President and CEO of Willowbend Development from 1992 to 2005. During that span, the two combined to develop close to $1 billion in resort and/or residential communities in the United States and Puerto Rico.
"I'm very pleased to have the opportunity to acquire Willowbend," said Southworth. "As someone who was there at the very beginning of Willowbend, being given the chance to take over the stewardship of the club and community is something that's very gratifying. Willowbend has always been a second home for my family and me – literally, as I maintain a residence and membership there. To have the opportunity to guide this exquisite club community into the future is one that I value dearly. It just shows that you can go home again."
Deitch, a native of Boston, Mass., serves as Chairman of Southworth Development. But he is perhaps most widely known for being the Founder and Chairman of Commonwealth Financial Network, the nation's largest privately-owned, independent broker-dealer firm, with over $65 billion under management. Even more impressive is the fact that Commonwealth has won innumerable awards for being a "Best Place to Work" both in Boston and San Diego.
"Willowbend is a perfect fit for Southworth Development," said Deitch. "It's an extraordinary property with phenomenal amenities and a truly wonderful group of members and residents. Joining together with the Willowbend community to chart a new course for the future is going to be a real pleasure."
Willowbend was purchased by the Fireman family in 1991 and quickly became the most luxurious private club in New England. The Club, known for its 27 holes of championship golf, cranberry bogs, stunning facilities – and its famous members – quickly became the center of Cape Cod's summer glitterati scene. It also served as home of the Willowbend Children's Charity Pro Am for many years – an event which brought some of golf's biggest stars, including Greg Norman, Gary Player, Tom Watson, Nick Faldo and John Daly and others to the Club. Today, Willowbend's membership includes more than 300 discerning individuals and families.
"When the time came to sell Willowbend, it was definitely an emotional decision," said Fireman. "In the end, it made perfect sense on every level to hand over the reins to David and Joe. Knowing that the club and community will be in their capable hands has made this decision so much easier. Now, my family and I will be able to enjoy the club as members, rather than owners. We're looking forward to doing so for many years to come."
About Willowbend: Created in 1992 by Paul Fireman and David Southworth, Willowbend has earned a reputation as New England's premier private club community. Featuring 27 holes of award-winning championship golf, luxurious estate homes and villas, a world-class tennis facility, Olympic-sized pool, state-of-the-art fitness facility and spa, plus elegant gourmet dining, Willowbend has long been considered Cape Cod's most prestigious and exclusive private enclave.
About Southworth Development: Southworth Development LLC is a privately held company specializing in the development of residential resort and hospitality-branded real estate communities. Founded by David Southworth, Southworth Development's expertise includes master-planned community development, real estate asset management, golf course construction management, and resort and golf operations management. Southworth's award-winning communities include:
Machrihanish Dunes – a celebrated historic project on the west coast of Scotland consisting of a U.K. Top-100, 18-hole, David McLay Kidd-designed seaside links course, two historic Scottish hotels, single-family residential home sites and fractional ownership golf cottage units.
Creighton Farms – an exclusive residential golf community located in Virginia's prestigious Loudoun County and featuring a Jack Nicklaus Signature golf course, 964 acres of beautiful Virginia hunt country home sites for the community's elegant Legacy Homes and Villas, a brand new 34,000-square-foot clubhouse and a host of other existing and planned amenities.
Meredith Bay – a luxury residential gated community with single-family home sites, townhomes and a private beach club and marina located on New Hampshire's famed Lake Winnipesaukee.
Renaissance – a private golf club that was named "Course of the Year" for 2012 by the New England Golf Course Owners Association and consists of an 18-hole Brian Silva Signature championship golf course and new American Shingle-Style clubhouse located on Boston's North Shore.
PGA Village® – The Bahamas – Currently under development, this resort property on Cat Island in The Bahamas is being created in conjunction with the PGA of America. It will feature a 1,906-acre oceanfront site with over 2 miles of beachfront and will be anchored by a five-star boutique hotel. Amenities will include 36 holes of championship-caliber golf, the PGA Village®, a casino, and spectacular seaside residential units.
Contact: Nancy Powers, Director of Public Relations, 508-548-4969 npowers(at)southworthdevelopment(dot)com
###