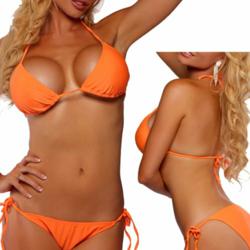 When that potential customer looks at our website they can find thousands of the latest items, all with reviews from buyers, in a matter of seconds
Annapolis, MD (PRWEB) March 06, 2012
Where to spend spring break in 2012? This thought could possibly be on someone's mind right now. It may even be trending on Twitter. It is that time of year, and it is a thought that deserves careful consideration and planning. When thinking about the perfect spring break escape Caribbean beaches, all night parties, sun filled days, and sexy bikinis may come to mind. However, such ideas can leave one spring broke if not properly premeditated.
Just in time for this annual rite of passage for thousands of students across the world http://www.mylingerielounge.com launches its new Bikini Line. "We wanted to make sure we had a large selection of sexy bikinis in all shapes, sizes, and colors. However, we did not want to sacrifice quality for quantity and my main concern was being able to deliver the best product at the best price. I also remember my Spring Break experience and as much fun as I had, I distinctly remember being on a very tight budget" says owner Jimmie Bell.
Some destinations will host between 100,000 to 200,000 people all lining the sand in the hottest swimwear, trying to cram as much fun as possible into a few days before heading back to school. "We understand the social pressure and time constraints put on our customers and we want to make sure that our site content is hip and affordable. When that potential customer looks at our website they can find thousands of the latest items, all with reviews from buyers, in a matter of seconds" says Bell.
So no matter the destination this spring break, careful planning and budgeting can make the experience sexy and enjoyable without breaking the bank.
For more information about My Lingerie Lounge, visit the company's website, or follow on Twitter @jbell_24 and Facebook/My.Ling.Lounge to stay connected with special offers and new products.
About http://www.mylingerielounge.com
Online lingerie retailer with large selection of lingerie, bikinis, bras, panties, plus size lingerie, sexy costumes, hosiery, bridal, adult party costumes, clubwear, swimwear, and adult toys! Affordable prices, fast shipping and secure ordering.