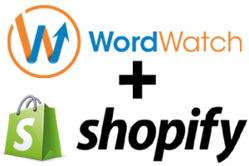 WordWatch was built for webstore owners so we're very happy to get our app in the Shopify app store.
San Jose, California (PRWEB) March 06, 2012
WordWatch has announced its shopping cart application integration with Shopify. The integration allows for the 20,000+ Shopify stores to download and run WordWatch from the Shopify app store. Shopify store owners will be able to add their WordWatch bill to their Shopify subscription if they choose a paid plan, keeping their e-commerce billing all in one place.
"This is a great integration for us. WordWatch was built to help small webstore owners and we're extremely excited to get our app in front of the Shopify users," Chris Bauman, VP of business development at WordWatch, said. "We're looking forward to providing Shopify with its first SEM application and we're sure this partnership will be a great benefit to both of us."
The app can be found on the Shopify App store as of March 5.
About WordWatch:
Founded in 2009, WordWatch is an online AdWords bid management application designed for small business advertisers, marketing consultants and freelancers, and small agencies. The application simplifies the daily management of keyword bids and constantly optimizes a customer's AdWords account. WordWatch has offices in San Jose, Amsterdam and Krakow.
Related Links
http://www.wordwatch.com
http://apps.shopify.com/wordwatch