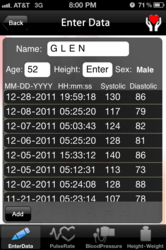 "I've tried other medical APP's and they have too much or not enough patient information. My Blood Works is just right for any patient" says Kiki Reyes who uses the APP.
(PRWEB) March 06, 2012
March is National Kidney Month and if a user is at risk for any of these, the user can track them with "My Blood Works" APP. CKD or chronic kidney disease is a silent killer, which will largely affect quality of life. There are however several easy ways to reduce the risk of developing kidney disease.Tracking is the very first thing to start doing, and a user can do that with "My Blood Works" APP which will track a user's kidney function through blood tests, blood pressure, weight, medications and a whole lot more. Since this APP is made by a kidney transplant patient, and with GOGLE LLC, it will track everything a user will need to watch their kidney function and overall health. Preventing CKD is not as difficult as everyone might think. Here are some other things a user can do to prevent chronic kidney disease (CKD):
Keeping fit and active
Keep regular control of blood sugar level and/or intake
Monitor blood pressure
Eat healthy and keep weight in check
Maintain a healthy fluid intake
Do not smoke
Do not take over-the-counter pills on a regular basis
If a user has one or more of the 'high risk' factors, see a physician who will request a blood test that can be tracked through "My Blood Works" APP. Functions in this APP include tracking users blood pressure, pulse , height and weight (optional) all with graphs, blood tests, medications, appointments, emergency phone numbers and medical records.
# # #