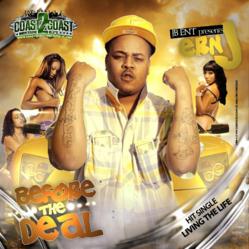 Miami, FL (PRWEB) March 06, 2012
Rap artist Ern J Recently released his mixtape, "Before the Deal." Coast 2 Coast presents the project, which is mixed by Wildman Teddy T, along with JB Entertainment. It is now available for free download. "Before the Deal" features Ern J on tracks with guest artist appearances from Marcus, Jade, Fresh, CLE 1, Ziggy, Sam I Am, T-Stunna, Amp Dogg, Broward Boy, and D Roc.
"One reason why I rap is the most important reason, and that's to get my brother out of jail," says Ern J, an artist under his brother's record label, Jennings Boys Entertainment. Ern J has been called the Biggie of Broward County, FL. Growing up in Pompano Beach, FL was not easy for the young artist. Raised in a single parent home, the streets eventually drew him in with the false promise of money, women, and fame—and pushed Ern J to try to live life in the "fast lane." Luckily his brother, Samuel Jennings, had business drive and ambition which caught Ern J's attention and got him in the studio. Once he started rapping for his brother in 2009, the two started buying music equipment and getting the paperwork together to display Ern J's talent to the world.
By 2010, Ern J had recorded a remarkable 150 songs in his brother's studio. "Hard work and good music is my equation," he says. "If I was in the other game, it would be the same way—hard work and good product, so that's my mentality while recording." His first official single "Living the Life" was released in 2011, and he has been steadily working ever since. While Ern J isn't worldwide yet, he has had music on the underground radio stations of South Florida and a single "Vibe With Me" was a hit in the clubs. At this rate and with his new mixtape, Ern J is sure to be the next big thing on the hip hop scene.
"Before the Deal" is available for free streaming and download at http://coast2coastmixtapes.com/mixtapes/mixtapedetail.aspx/before-the-deal
# # #