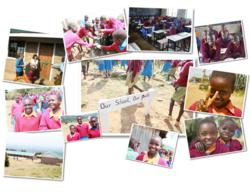 Los Angeles, CA (PRWEB) March 06, 2012
The Unstoppable Foundation announces their 3rd Annual Gala at the Millennium Biltmore Hotel on March 17 at 5:30 pm. This special evening of hope and inspiration is designed to demonstrate that it is possible to provide an education to every child on the planet. The goal for the evening is to build an all girls secondary school in Kenya for 200 young girls. 100% of the proceeds will benefit Free The Children and will be matched dollar for dollar by Grammy award-winning artist Nelly Furtado.
The evening will consist of a Red Carpet, VIP Reception, musical performances by Elliot Sloan performing his #1 smash hit "I Believe," the legendary interactive Drum Café, a 5 person troupe who has performed for Nelson Mandela, silent and live auction and as a special highlight, the Water Walk Experience -- an interactive experience where guests will slip off their shoes and try lugging one or two five-gallon Jerry cans (40 pounds of water each) for 15 feet. The Water Walk gives guests a taste of what it's like for the millions of women and girls in Kenya who spend hours walking for water each day. Providing access to clean water is an integral piece of the Unstoppable Foundation's development model in Kenya and other developing countries. For every guest that participates in the Water Walk, our sponsors will donate $100 to the foundation.
The GALA guests consists of 300 mega influencers including celebrities, pre-eminent global thought leaders, nationally known speakers and supporters affecting change in the world of business, transformation and philanthropy.
In 2011, groundbreaking author and founder of the Unstoppable Foundation, Cynthia Kersey, went on an inspiring journey to Kenya. Kersey was visiting to see the progress of the schools that Unstoppable Foundation played a role in funding in rural Maasai Mara region of Kenya, including an all-girls boarding secondary school, named Kisaruni, or "Land of Peace." With a mission to empower youth through education, the Unstoppable Foundation has already made tremendous investments in primary level education through its international charitable partner, Free The Children.
"I see the potential of investing in higher education for these young women because educated girls and women have the power to create positive change in the world. When girls become empowered though education they are much more likely to become future leaders of their communities," states Kersey.
Kersey witnessed the transformative impact that Kisaruni is having on the surrounding areas where families are living in what the UN refers to as "absolute poverty," meaning that people live on less than 1 dollar a day. She also saw firsthand the palpable hope that emanates so strongly from each and every girl, knowing that this advanced education will provide a real future for them and sustainable change in their communities.
Inspired by the impact that primary education is creating for a generation of young women in Kenya and the success of Kisaruni All Girls Secondary School, Kersey is committing to an even bigger challenge this year. She is responding to a call to action issued in the fall of 2011 by Nelly Furtado, who has pledged her support for a second all girls boarding secondary school in the Maasai Mara region to enable more girls to become empowered and uplifted.
With an increasing number of children, especially girls, graduating from primary school, there has been a surge in demand for advanced education opportunities. For many, however, education ends after grade eight. This is especially true for girls in a society that promotes more traditional female roles. Currently, 25% of girls under the age of 15 in Kenya are married and do not continue to pursue a higher education. This reality stems from situations that currently prevent women from becoming powerful and respected leaders in their communities.
About the Unstoppable Foundation
In just three years, the Unstoppable Foundation has funded 26 schoolhouses in three African nations and provided partial funding for a secondary school for girls. This vital education will empower a total of 71,960 children over the next 20 years with the life-long gift of an education and a real future. In addition, the Unstoppable Foundation has given six communities access to clean, healthcare and income training for the parents so that the education model is sustainable.
Through the partnership of outstanding in-country partners, the Unstoppable Foundation supports the Adopt a Village development model which fosters ownership of the project by community members – partnering with them to provide education and sustainable solutions to help them lift themselves out of poverty. It's not charity but community empowerment and sustainability in the truest sense.
For more information: http://www.UnstoppableGala.com
Highlights of the new All Girls Secondary School in Kenya

This ALL NEW boarding secondary school will be modeled after the success of Kisaruni All Girls Secondary School in Kenya
The school will include classrooms, dormitories, teacher accommodations, a kitchen, dining hall, community gardens, a library, as well as science and computer labs
The fund will also support the new school's operations, providing up to 160 girls every year with free room and board and a full secondary education
In addition to traditional secondary school curriculum, training on topics focused around leadership and sustainable best practices, will also be provided, ensuring these young women are empowered with the knowledge and skills to become leaders and help bring their community out of poverty.
Cynthia Kersey
888-867-8677
cynthia(at)unstoppable(dot)net
http://www.UnstoppableFoundation.org
"The HOME Foundation Proudly Supports The UnStoppable Foundation"
About The H.O.M.E. Foundation:
The Helping Others Means Everything, or The H.O.M.E. Foundation, is a not-for-profit organization dedicated to helping our Family of Charities. Frank Verdugo, President of The HOME Foundation, wants to help as many worthy charities as possible as they struggle during these tough economic times. Frank Verdugo helps raise funds through luxury dream home raffles, prizes, and high profile celebrity events in Hollywood... "Our mission is to help charities reach their fundraising goals and to bring awareness to their praiseworthy causes." Please visit our Dream Home Raffle at: http://www.HOMEFoundationRaffle.com and http://www.facebook.com/HOMEFoundationRaffle.
# # #