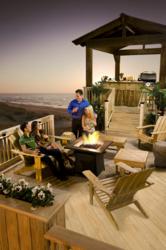 Through our partners at 84 Lumber and its network of stores throughout the Sunshine State, We're providing the finest decking for that Florida outdoor lifestyle-Don Hayes, GSM Sunbelt Forest Products
Bartow, Florida (PRWEB) March 07, 2012
Sunbelt Forest Products announces the launch of their new Sunrise Decking line, a #1 premium grade Radius Edged 2x6 real wood decking product with limited knots and no wane. Able to span 24" joists, Sunrise Decking will provide builders and homeowners a clean looking decking solution with superior strength and long lasting beauty compared to typical 5/4" decking.
"Florida has a wonderful climate that allows homeowners to enjoy outdoor living through much of the year, and by using Sunrise Decking, professionals and DIY homeowners can expand their outdoor living environments with a premium decking solution that will look better for longer" said Don Hayes, General Sales Manager of Sunbelt Forest Products. "Now with our partners at 84 Lumber and its network of stores throughout the Sunshine State, we're providing the finest wood decking to let folks make the most of that outdoor lifestyle."
Sunrise Decking is pressure treated with Ecolife™; a non-metallic wood preservative and wood stabilizer to maximize the performance and beauty of new wood decks, is now available in 10', 12' and 16' lengths throughout Florida exclusively at 84 Lumber store locations. During the pressure treating process, the Ecolife™ preservative and wood stabilizer system are driven deep into the wood to protect all surfaces and to help minimize the effects of weathering, reducing the cracking, checking and splitting common to ordinary treated lumber.
In addition to the pride of creating a beautiful new deck and the assurance that it will stand up to the elements, those whose work is shown to be exceptional can win prizes in the 2012 Ecolife Fish More Deck Challenge, sponsored by Viance LLC. This exciting deck building competition will award a Team Grand Prize of a Tracker(R) Pro Team(R) 175 TF to a the builder and $2500 cash to the Homeowner of the winning deck selected in the Deck Challenge. Additionally, ten monthly prizes will also be awarded each month to ten professional remodelers / deck builders and ten DIY homeowner deck builders in the amount of $500 each.
"The Fish-More Deck Challenge promotes the idea that deck builders and homeowners alike can 'Take back their weekends' by building decks with Ecolife," said Viance Director of Marketing Christopher Kollwitz. "We are excited about the Deck Challenge, and to opportunity to review the creativity of deck builders and homeowners across the country, and especially our Sunrise Decking customers through 84 Lumber stores in Florida."
To qualify, professional deck builders and DIY homeowners may compete in the Deck Challenge by building an "Ecolife Deck Project" and submitting photos and materials receipt for contest submission. Homeowners of decks registered by builders must co-register their entry into the Deck Challenge to be eligible for the Grand Prize.
The Deck Challenge began in February and will run all year long. The last day for entries is December 31, 2012. The winning deck project will be selected by a team of independent professionals from the building products industry. For more information about the Ecolife wood treatment solution or the Fish-More Deck Challenge and contest rules, visit http://www.Ecolife.Fish-More.com
About Sunbelt Forest Products
Sunbelt Forest Products is a leading manufacturer of high quality pressure treated lumber and related products including fencing and decking. Located in Bartow, Florida., the business serves lumber dealers, original equipment manufacturers, home centers and fence contractors across Florida and the Southeast and into the Caribbean Basin. For more information on Sunbelt Belt Forest Products visit our website at http://www.sunbeltfp.com