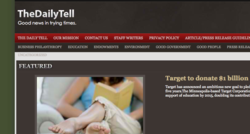 We believe there is a real demand for these types of positive news articles
Chicago, IL (PRWEB) March 07, 2012
The Daily Tell aims to chronicle the thousands of positive news and inspirational stories from around the globe. Reports that showcase the better side of human nature seldom get much attention from many news outlets, which is why The Daily Tell looks show how there are people and organizations that strive to make the world a better place.
"We believe there is a real demand for these types of positive news articles," says The Daily Tell Editor Roberto Azula. He goes on to say that "we are to pick up on the positive, inspiring stories that the news agencies do not report on."
One of the site's recent features reported on the Gates Foundation teaming up with the Department of International Development in the efforts to fight hunger in developing countries.
The site archives a wide range of activities, from philanthropy, nonprofit organizations, and government programs aimed at fighting poverty and hunger. News articles featured will tackle business philanthropy, education, endowments, the environment, and good governance.
The Daily Tell states that their ultimate goal is to remind people that it is not all "doom and gloom" and that there are people and organizations that are working hard to spread awareness and improve the quality of life.
Azula adds that "by reading The Daily Tell, a reader can get a more complete picture of an individual or organization beyond the usual focus on negativity found in most news agencies."
The Daily Tell updates regularly and is open to any submissions of article ideas or information about any nonprofit or philanthropic organizations.
Company Information:
The Daily Tell is a news blog that features positive news reporting that focuses on business philanthropy, education, endowments, environment, good government, good people, and technology. The site's goal is to bring good news in trying times to show people that good things happen all time.