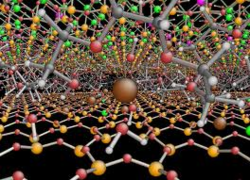 Materials and Organic Chemistry @ ScienceIndex.com
Mannheim, Germany (PRWEB) March 07, 2012
ScienceIndex.com is a Web 2.0 sciences social network established in 1998 to index the very latest news, headlines, references and resources from science journals, books and websites worldwide. The site covers news in all fields of biology, business, chemistry, engineering, geography, health, mathematics and society. In the field of Chemistry, the site has now included the two new categories Materials Chemistry and Organic Chemistry. While the Materials Chemistry category covers characteristics and uses of the various materials, the Organic Chemistry category covers the chemistry of carbon compounds.
ScienceIndex.com's Chemistry Sciences Category covers the composition, structure, properties, and reactions of substances. Its seven subsections include Biochemistry, Food, Inorganics, Materials, Organics, Physics and Toxicology. Users can receive alerts if new content has been posted in this category by subscribing to ScienceIndex.com's Chemistry Sciences RSS feed.
ScienceIndex.com's Materials Chemistry category covers characteristics and uses of the various materials. It currently contains over 73,300 articles partly derived from nearly 200 scientific journals. One of the latest additions covers simulations and experimental verification of pressure dependence of space charge deposition in piezoelectric polymer foams. The authors measured the piezoelectric activity of PQ-50 cellular polypropylene (PP) foam (an example of a so-called ferroelectret) after repeated charging in a nitrogen atmosphere at a range of pressures. They conclude that the Paschen curve for electric breakdown in gases needs to be modified for dielectric barrier discharges in microcavities and for previously uncharged PP foam, they predict an optimal charging pressure of 186 kPa. The highest d33 coefficients were, however, achieved for pressures above 251 kPa. Another newly included story investigates the magnetic structure of almandine. For a more detailed understanding of the magnetic structure and the exchange pathways, the authors conducted electronic structure calculations in the local spin density approximation. Their study reveals that the almandine structure contains two identical interpenetrative sublattices of Fe dodecahedra connected via Al octahedra and Si tetrahedra, and they conclude that their results have scientific importance since almandine belongs to most abundant crystallized silicates that are main constituents of the earth and main components of cosmic dust.
ScienceIndex.com's Organic Chemistry category covers the chemistry of carbon compounds. It currently contains nearly 6,800 articles partly derived from over 40 scientific journals. One recently included article in this category describes the current status and future perspectives of thermophilic hydrogen production from renewable resources. Hydrogen (H2) is regarded an alternative fuel of the future due to its high energy density and non-polluting nature. H2 energy provides many advantages over fossil fuels in that it is renewable, eco-friendly, and efficient. This article summarizes recent research in carbon utilization for H2 production and developing gene manipulation techniques to enhance the H2 production capabilities in thermophilic bacteria. It also reviews the current status, future directions and opportunities that thermophiles can offer to enable a cost-competitive and environmentally benign H2 production bioprocess.
ScienceIndex.com currently contains over 1.39 million stories distributed among 75 categories. 75,334 users monitor nearly 8,400 journals covering the broad spectrum of sciences. They share circa 2,500 new articles every day. Since new science content is discovered in real-time, the delay between original publication and appearance at ScienceIndex.com is no more than two days. ScienceIndex.com provides an advanced search feature which suggests up to ten closely related articles for a search and also for a selected story. Other features include a "Life Traffic Feed", a "Top Content" sidebar, Google Translate functionality, and RSS feeds for every category. ScienceIndex.com also maintains the new Twitter account @ScienceIndex_.