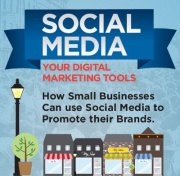 We want small business merchants to embrace social technology and utilize this form of communication. To be interesting you have to be interested. - Jason Versaggi
Brooklyn, NY (PRWEB) March 06, 2012
Rising Tide Group - the marketing department for small businesses - will be presenting Social Media: Your Tools For Digital Marketing to Brooklyn's Merchants of Third Avenue tonight at 7:00 PM. The seminar, taking place at Beebo in Bay Ridge, will feature social media basics and digital marketing advice for small business.
Third Avenue in Bay Ridge, Brooklyn is a 36-block strip of mom-and-pop shops nestled against the backdrop of the Verrazano Bridge. We are a non-profit organization dedicated to promoting and preserving small businesses on Third Avenue in Bay Ridge.
"We want small business merchants to embrace social technology and utilize this form of communication. To be interesting you have to be interested," Jason Versaggi
Founded in 1933, the Merchants of Third Avenue Civic Improvement Association covers the commercial corridor of Third Avenue in Bay Ridge, Brooklyn from 65th to 101st Street. The Merchants Of Third Avenue is currently led by New York Real Estate Attorney Robert Howe.
Rising Tide Group serves as the marketing department for small business, taking clients from goals to growth in marketing, social technology, public relations, digital marketing, and branding.
The seminar will be co-presented along with Inna Trinidad of Kaleidoscope Toys.