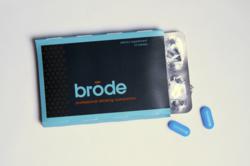 We wanted to make something that will actually help people.
New York, NY (PRWEB) March 06, 2012
Hot on the heels of launching its e-commerce website and beginning retail trials, Brode was recently listed in the new book "Coolest Startups in America" by author Doreen Bloch, earning a spot alongside such prominent companies as Square, Wolfram Alpha, Rent-the-runway, and Turntable.fm.
"Obviously, it's a great honor" says founder Marc Brodeur. "We're bringing a unique product and brand into this space, and we are thrilled to be recognized for what we are building. We looked at existing products in the category and they consisted of awful tasting drinks and completely ineffective capsule-based products. Nobody was doing it right. We wanted to make something that will actually help people."
To address the complex factors that cause hangovers, Brode, an upstart company dedicated to healthy, professional-grade products, has released its new "Drinking Companion". Brode tablets support body processes to naturally mitigate the onset of headaches, muscle fatigue and other unpleasant side effects of hangovers before they start.
Developed in a laboratory in suburban Long Island and tested in New York over the past year, Brode Drinking Companion is based on established science and addresses the two primary factors of hangovers: dehydration and toxin build-up. The tablet is roughly two-thirds electrolyte complex, to support proper hydration, and one-third vitamin and amino acid complex, to support proper metabolism and detox. All ingredients are commonly recognized as safe by the FDA.
Unlike other products that come in a bottle or packet, Brode tablets are packaged in a sleek and convenient blister pack that carries multiple doses—great for sharing and pocket-friendly. Dehydration and toxicity start with the first drink, so the recommended time to take Brode tablets is at the beginning of a night out.
"We like to say that there is nothing you can do to cure a hangover, but there are steps you can take to prevent one," added Brodeur. "We have friends all over in marketing, TV, finance, real estate—you name it—who socialize and entertain as part of their daily lives. The Brode Drinking Companion was created for these people who are uncompromising and demand the best out of themselves. Whatever fast-paced industry you're in, Brode is the new must-have accessory."
Brode was founded in 2010 as a way to create high quality products that help people drink and be healthy at the same time. Our mission is to help people work hard and play smarter. #PeopleAgainstHangovers. Brode Professional Drinking Companion is available at shop.getbrode.com and Amazon. Find Brode online on Twitter and Facebook.