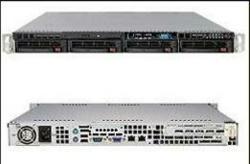 ...operators now have a turnkey decoder, playout and content distribution solution that brings frame accurate playback, machine control, and VANC data insertion capabilities for content of virtually any file type
Tampa, FL (PRWEB) March 06, 2012
Vela Research® announced that its widely deployed comprehensive MPEG-2 4:2:0 and 4:2:2 Standard and High Definition CineView HD Pro decoder blade solution is now capable of transcoding and converting content files of virtually any type into those compatible with the HD Pro Blade decoder system. The HD Pro blade, the field-proven de facto standard for content and distribution service providers has been deployed by 9 out of the top 10 service providers in the US, and has over 1,000 channels currently in use.
The comprehensive feature list of the CineView HD Pro Blade solution includes these and a wide array of other features required in the most demanding user environments today:

Simultaneous HD/SD output via SDI
Frame Accurate HD/SD decoding
Playback of 4:2:0/4:2:2 SD & HD profiles, Transport, Program & Elementary Streams
708 and 608 Closed Captioning Insertion (VANC and OSD)
Comprehensive list of display resolutions
Embedded 8-channel audio in the SDI stream
Frame Accurate A/B channel switching
Dolby Digital and Dolby E pass through and Extensive Audio Mixing
MXF and VANC support
1 TB of local storage
Mike Reddy, President of Vela said, "The CineView HD Pro Blade 4:2:0 and 4:2:2 SD and HD, MPEG-2 decoder is a powerful turnkey system level solutions offered that enable broadcasters, cable MSOs and content distribution providers to decode, playout and distribute content, for local origination, closed captioning verification and quality control of incoming video content including advertising spots. It is a highly affordable… yet no-compromise, full-functionality, out-of-the-box, high performance solution designed for the most demanding environments – and that explains the widespread vote of confidence that operators continue to place in it. Vela continues to add to the functionality of the HD Pro Blade server to ensure that it integrates seamlessly into operators' workflow and that it minimizes the need for other, extraneous equipment to perform the quality control, verification and high performance video playout and content distribution functions."
Kevin McDowell, Vela's Director of Sales, said, "The HD Pro Blade decoder-server system is ideally suited for mezzanine file, advertising and short and long form video playback and distribution – as well as for quality control and verification of SDI, VANC and Closed Captioning data integrity. Vela's CineView HD Pro Blade decoder, at under $6,000 has proven itself in extremely demanding environments around the world and has earned its place as the most powerful, versatile and cost-effective solution for verifications and quality control of Closed Captioning. It offers the ability for customers to easily, intuitively and rapidly integrate it into their existing work processes, to do away with time-consuming and disruptive extraneous processes to transcode or trans-rate content and avoid over-loading existing computing resources with these processes." A detailed spec sheet for the HD Pro Decoder Blade can be found here.
Kevin Grubbs, Vela's Director of Engineering said, "We continue to respond to the emerging and evolving needs of our cable, broadcast, VOD and content distribution customers and add new features and interfaces that further enhance the value of the CineView HD Pro blade decoder system to their revenue operations. With the addition of transcoding capabilities, operators now have a turnkey decoder, playout and content distribution solution that brings frame accurate playback, machine control and VANC data insertion capabilities for content of virtually any file type or format."
Users in the broadcast, cable, OTT, content distribution, VOD, post-production, education and digital signage fields interested in further information or in test-driving the HD Pro decoder blade solution are invited to contact Kevin McDowell at 954-558-2063 (kmcdowell(at)vela(dot)com).
About Vela: Vela® is an Emmy® award winning company offering a complete range of high quality standard- and high-definition products for the broadcast, cable, OTT, VOD, post production, enterprise, and education markets. The Company designs and manufactures MPEG system and board level solutions used in a variety of MPEG-2, H.264, VC1 and Apple ProRes applications. Over the past 18 years, Vela has earned recognition by virtue of the trouble-free, high-performance and cost-effective solutions in use in demanding customer environments worldwide. Vela is based in Clearwater, Fla., USA, and on the web at http://www.vela.com.