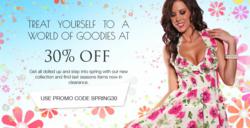 The positive place for girls.
Los Angeles, CA (PRWEB) March 07, 2012
Amiclubwear unveils a tempting array of delectable fashion staples for the most glorious season of all, spring. It's all about getting dolled up in delectable spring fashion made even more irresistible because they are absolutely guilt-free at 30 percent off. What's more, last season's items can now be found in clearance. All savvy shoppers will certainly get first dibs on quality items from the spring collection and items in clearance that will surely stand the test of fashion seasons. There's no time to waste, take advantage of this special promo that ends on 3/7/2012 by using the promo code spring30 to avail of Amiclubwear's generous discounts. Shopping pleasure will certainly be maximized with an array of Amiclubwear items mentioned below.
Rompers are so right for revealing gorgeous gams that are ready to receive the sun's bronzed kiss. After months of being bundled up in thick winter clothing, rompers are certainly a liberating change in time for spring. Made with fabrics that are as light as buttery chiffon or as silky as buttercream icing, Amiclubwear rompers boast soft, ultra-feminine styles and sleek silhouettes that hug women's curves without constricting them. They also come in flower or animal prints, and solid colors that range from dark to bright to pale pastel hues. So, it's safe to say that there's a romper for every woman who visits Amiclubwear.com.
And, if there's a romper for every woman who's set on using the promo code spring30 to purchase one at friendly prices; there's also a wedge for every romper that was created for the Amiclubwear woman. With this in mind, Amiclubwear has extended the promo code to include chunky wedges that emphasize the length of womanly legs without sacrificing stability. If wedge shoes in the past were homely, practical solutions to achieving some height without having to keel over, that's no longer the case. Beautiful wedges, bursting with candy colors or subtly shimmering in earth tones and nude hues, will certainly capture any lady's fancy. And what's more, the strappy designs give these wedges a vintage vibe with a funky twist. In fact, if the fashion envelope is pushed more, the perceptive fashionista will find the perfect spring dress for every wedge.
And, it's more than fortunate that lovely spring dresses are all the rage from now till 3/7/2012 at 30 percent off. Airiness, romance, softness and blooming color seem to be the order of the day this spring 2012. There are no hard edges to this collection. There is just a refined liveliness that defines the collection of minis, midis, and maxis featuring jewel colors as well as delicate spring prints. But, expect to be enticed further by the variety of Amiclubwear's spring prints. Choose from delicate flower prints; hot animal prints, and geometric prints in stunning colors.
At Amiclubwear, spring kicks off with a 30 percent discount. What better way to step into spring than a guilt-free shopping spree.