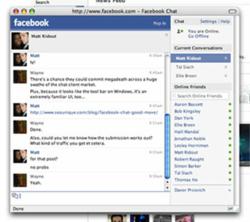 New York, NY (PRWEB) March 06, 2012
Chatting is one of the most enjoyable activities that can be done online. Through chatting, users can meet different kinds of people, exchange ideas, and share what you feel about a certain thing. Chatwing, a versatile chat widget lives on that notion. Once Chatwing is installed in any website, it leverages Facebook chat to everyone.
To look for reliable chat software is like finding needle in a haystack. There are thousands of applications out there—all have varying functions and target market. Chatwing is one of the best 'connection leverages' that you can use. Since it is new, more enticing features are expected from it.
In fact, Chatwing is already making a buzz in the blogosphere. It has been noted that bloggers are actively using Chatwing to attract visitors for their blogs. If a blogger, it is best to know that Chatwing's installation can be accomplished in under a minute or less. Since it is live chat software, visitors can talk in real-time.
Emoticons are also integral parts of Chatwing. People know that emoticons are also extensions of messages and Chatwing maximized that. Chatwing uses unique emoticons that can mirror happiness, sadness, angst, and other emotions. Those bloggers who use Chatwing expect that more emoticons will come in the following months.
Chatwing is currently available to everyone in the world. Users can get the Chatwing widget right away by visiting the website. After registration, customization follows. It is best advised to sync the appearance of the widget to your blog or website. Users can also rename the title of the widget.
Chatwing expands anyone's Facebook horizon by letting users sign in with their Facebook accounts. In that way, visitors can invite and get to know each other. Improved social connection is Chatwing's purpose, and it is following that standard right after its inception.
A Chatwing observation also points out that employees and students use the widget for relaxation. Most topics discussed in Chatwing are movies, current events, hobbies, humor, and relationships. A large percentage of chatters also discuss topics about the blogs the widgets are installed in.
Another benefit of Chatwing is advocacy expansion. Groups with advocacies can use the Chatwing shoutbox to spread information and agendas. New users from Facebook can also check out Chatwing's Facebook page to understand the features better. If users want to check out Chatwing and improve the way they connect with people, do not hesitate to visit Chatwing's website right away.
About Chatwing.com
Chatwing.com has developed live chat software for websites and blogs. The Chatwing.com website offers users the ability to signup and create a customizable live chat feature in 1 minute or less. Users have the ability to customize the size, color, and fonts of the chat product. The ability to chat via social media accounts such as Facebook and Twitter enable Chatwing to offer a personal and unique real-time experience to all sites. Chatwing is 100% free web software.
http://www.chatwing.com
http://www.facebook.com/chatwing
http://www.twitter.com/chatwing