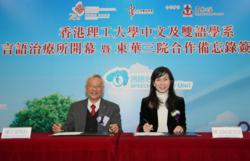 (PRWEB) March 06, 2012
The Speech Therapy Unit newly set up by the Department of Chinese and Bilingual Studies (CBS) of The Hong Kong Polytechnic University (PolyU) was officially opened on 3 March. The opening ceremony was followed by the signing of the Memorandum of Understanding (MoU) with Tung Wah Group of Hospitals (TWGHs) on the PolyU campus.
This strategic partnership with TWGHs marks an important milestone for the new unit. Officiating guests of the ceremony included Professor Philip C. H. Chan, PolyU Deputy President and Provost, Professor Churen Huang, Dean of PolyU's Faculty of Humanities and Mrs Viola Chan, 1st Vice-Chairman of TWGHs.
Addressing the ceremony, Professor Huang said, "Speech Therapy Unit, CBS serves as a research and teaching and learning platform. On one hand, it facilitates the research collaborations between linguists and speech therapists. On the other hand, it serves to provide valuable clinical experiences for the training of language and allied health professionals and cognitive sciences students."
Professor Philip Chan added that "PolyU has always been providing application-oriented education that stays close to the practical needs of our community and has a leading role in educating allied health professionals. The Speech Therapy Unit creates a new academic direction which is inter-disciplinary, based on PolyU's existing strengths, fits PolyU's goal of being application-oriented, and has an enormous room for future development on research, teaching and learning as well as services to the public."
In Hong Kong, the Labour and Welfare Bureau and Social Welfare Department anticipated an increasing demand for speech therapists in their recent report. At the same time, due to the marked discrepancy between the number of professionals available and the needs of people with Communication Disorders on the Chinese mainland, more and more mainlanders are coming to Hong Kong for private speech and language therapy service.
Being a strategic partner of the Speech Therapy Unit, TWGHs shares the same vision with the university in responding to the community needs through application of professional knowledge. Mrs Chan said they treasured the partnership opportunity. She continued, "The collaboration between the TWGHs and PolyU aims at fostering quality and effective support services to students with special educational needs through evidence-based research and professional development at schools in the area of teaching and learning. With the strengths of PolyU in language and allied health professionals, we trust the partnership will be synergistic and fruitful."
PolyU will also host an international conference on dyslexia management in November 2012. Parents and interested parties are welcome to attend relevant activities. Please visit the website of PolyU's Speech Therapy Unit at http://st.cbs.polyu.edu.hk or contact 3400-3636 for further information.
Press contact: Dr Mantak Leung
Department of Chinese and Bilingual Studies
Tel: (852) 2766 4756
Email: ctlmt(at)polyu(dot)edu(dot)hk