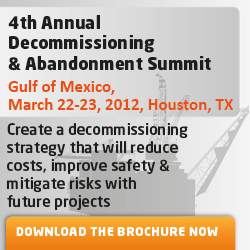 (PRWEB) March 07, 2012
On March 22-23 2012, Houston Texas will play host to DecomWorld's 4th Decommissioning & Abandonment Summit. This meeting has already generated a huge buzz across the region and throughout the international offshore decommissioning community and is the largest meeting place worldwide for the community.
Attendees from the Asia Pacific, Europe and throughout the US are flocking to Houston in March to utilize latest industry experience to reduce costs, improve safety and mitigate risk on all future decommissioning projects. With experts from the Bureau of Safety & Environmental Enforcement showing their support in moving the industry forward with strict Idle Iron decommissioning targets, all of the major players in the decommissioning market will be in attendance.
Due to government involvement and huge support from all of the key operators working in the Gulf of Mexico, the conference has already sold out its primary meeting place – resulting in the summit having to secure extra space and increasing the size of the exhibition area to accommodate the extra service providers looking to meet the oil and gas operators in the region.
Event organizer DecomWorld stated "This conference has large delegations from the top 5 operators in terms of decommissioning exposure in the Gulf of Mexico. These operators alone have over $2.4bn worth of liability in the region and are looking to put in place robust strategies to complete their decommissioning programs in the safest and most cost effective way possible."
"The conference has almost 25 different operators represented at the 2012 summit who will be there to share best practice approaches. This huge operator presence has attracted all of the major contractors working in the region who are keen to win business moving forward in this market".
For more information on the 4th Decommissioning & Abandonment Conference Conference which is taking place in Houston Texas on March 22-23 visit http://www.decomworld.com/decommissioning/conference-event-brochure.php
For more information on this press release, please contact Dean Murphy