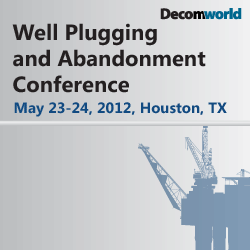 There was a real demand for information and the need to build solid partnerships to ensure sound results for well plugging and abandonment in the Gulf of Mexico
(PRWEB) March 07, 2012
Since the implementation of these regulations, over 1200 wells every year are expected to be plugged in the region. Recent research by DecomWorld can reveal that up to 40% of all decommissioning costs are attributed to effectively plugging and abandoning inactive wells, this has become one of the most costly, challenging and vital parts of the entire decommissioning process.
The lack of good documentation on older wells and the importance of plugging and abandoning wells effectively the first time around have caused huge challenges for the industry moving forward.
DecomWorld said, "there was a real demand for information and the need to build solid partnerships to ensure sound results for well plugging and abandonment in the Gulf of Mexico. As a result, we have decided to host a specialist Well P&A Forum in Houston this May built specifically for P&A Specialists to take away and use the latest best practices and technologies to improve their project execution".
"The response has been very good from the industry with the likes of Shell, Chevron, BP, Apache, Weatherford, Oceaneering and Wild Well Control already involved in the program".
To get more information on the upcoming Well Plugging and Abandonment Conference (May 23-24, Houston TX, USA) and how it will help you to execute P&A projects in an efficient, safe and timely manner whilst keeping project costs to a minimum, go to http://decomworld.com/wells/conference-event-brochure.php
For more information on this press release, please contact Dean Murphy