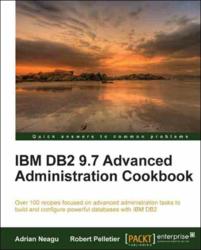 Birmingham, UK (PRWEB) March 08, 2012
Packt is pleased to announce the release of its IBM DB2 9.7 Advanced Administration Cookbook, a practical cookbook for DB2 Database Administrators striving to interpret the underlying aspects of database administration and make the best use of hardware resources for maximum performance. Written by Adrian Neagu and Robert Pelletier, this guide is packed with screenshots and insightful tips and hints.
IBM DB2 9.7 Advanced Administration Cookbook enables readers to sharpen their troubleshooting skills. It also helps them to design and implement the best backup strategy and master the exciting new features added to the DB2 9.7 version. Readers will further get to grips with advanced technological breakthroughs with RBAC and pureScale technology. This book contains step-by-step instructions to tune and optimize DB2 to achieve optimum performance. It also enables developers to understand database objects and their integration and enables them to make the best use of scalability with multi-partitioned databases.
IBM DB2 Enterprise Server Edition is a relational model database server developed by IBM that primarily runs on Unix, Linux and Windows servers. DB2 powers the different IBM InfoSphere Warehouse editions acquired by IBM.
Chapter 1: DB2 instance - Administration and configuration
Chapter 2: DB2 non-partitioned databases - Administration and Configuration
Chapter 3: DB2 multi-partitioned databases - Administration and configuration
Chapter 4: Storage - using DB2 table spaces
Chapter 5: DB2 buffer pools
Chapter 6: Database objects
Chapter 7: DB2 backup and recovery
Chapter 8: DB2 High Availability
Chapter 9: Problem determination, event sources and files
Chapter 10: DB2 Security
Chapter 11: Connectivity and networking
Chapter 12: Monitoring
Chapter 13: DB2 Tuning and Optimization
Chapter 14: IBM pureScale technology and DB2
Packt Publishing has published, and is due to publish, numerous other IBM DB2 titles including:

IBM Lotus Notes and Domino 8.5.3: Upgrader's Guide (published)
IBM Cognos TM1 Cookbook (published)
Packt's IBM titles are Published by Packt Enterprise. Packt Enterprise is a publishing division of Packt Publishing designed to serve the information needs of IT Professionals in the Enterprise space. Packt Enterprise also publishes on Microsoft, IBM, Oracle, Citrix, Java, Amazon, Google and SAP technologies.