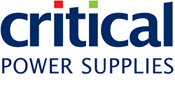 "This is a good demonstration of good practice for a company of this size to commit to Investors in People."
Thame, Oxfordshire (PRWEB UK) 8 March 2012
Customers, particularly those operating in industries where regulation and adherence to British and international standards apply, must have certain assurances that the suppliers they partner with and buy products from are also compliant. They also need assurances that such providers invest in the future of their businesses and take their responsibilities to the people who work for them seriously." States Jason Koffler, managing director, Critical Power Supplies. He continues:
The process of working towards Investors in People is meticulous. It has enabled us to focus on how we serve customers, respond to their needs, offer real value and ensure we help them to meet standards and regulations through the products and services we supply. The accreditation also means we are committed to continuously refining our systems, services and processes, alongside how we invest in employee development and empowerment."
Applying for Investors in People demands dedication and commitment. It involves hard work and a focus on developing businesses through people – whatever stakeholder they happen to be: employees, customers or suppliers.
Critical Power Supplies is a small company, so devoting the necessary time and resources to the Investors in People process was a challenge. However, it actually made the company more centred, streamlined and efficient.
Adds Koffler: "For a small business, it has enabled us to enhance customer service, massively strengthen profitability (without increasing overheads) and has improved our financial performance and productivity overall."
The Investors in People recognition panel stated in its report: "This is a good demonstration of good practice for a company of this size to commit to Investors in People. There are already some areas of significant strength in place which will be an asset going forward."
Critical Power Supplies was also commended for strong and clear ethical values, extensive technical expertise, communication and leadership skill. The panel also highlighted the fact that it is rare to find a business of its kind committed to such values and so customer-focused.
Background:
Established in 2009 by UPS (uninterruptible power supply) and energy industry specialist Jason Koffler, Critical Power Supplies is a provider and value-added reseller of power continuity products, critical power solutions, standby power and power protection systems. The company specialises in providing products for mission critical applications such as data centres, banks, broadcast companies, healthcare customers, industry, marine and military installations, telcom operators and other vertical sectors. It also provides energy management and specialist cooling products, services and consultancy. It's primary customer base is the UK (plus Northern Ireland) and it supplies products and services to customers in Europe, Asia and elsewhere.
Critical Power Supplies' product range includes UPS (from entry-level 300VA to 6MVA), fuel cells, generators, servers and data centre equipment including rack systems, Power Distribution Units, Source Transfer Switches, Smart Meters, consumables and spares, UPS accessories, power solutions and power conditioners.
Critical Power Supplies also provides a range of services including: site surveys,UPS and generator hire or rental, remote monitoring and response services, battery testing and replacement, design and project management, installation and commissioning, maintenance and warranty services and the removal and licensed disposal of old equipment (including UPS batteries). The company's extensive service network provides 24/7 support for customers running critical equipment.