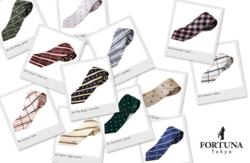 Many of today's leading designer brands seems that the wearer must match themselves to any particular piece of clothing.
Tokyo, Japan (PRWEB) March 07, 2012
Fortuna Tokyo, one of the Japanese leading luxury brand for mens' neckties is pleased to announce the launch of it's products towards the global customers as from March 7th 2012. Fortuna Tokyo is a Japanese Necktie brand that started in July 2011 constructed with the intricacy of ancient kimono techniques, whilst adhering to contemporary western design having forty thousand facebook fans as of today.(http://www.facebook.com/fortunatokyo)
FORTUNA Tokyo's ( http://fortunatokyo.com/en ) key concept is based on resurrecting the Kimono culture through western style clothing, boldly attempting to redefine the very roots of the modern day necktie as we are all familiar of today.
The neckties are thought of as to resemble entities which have been assigned special meanings and roles. Unlike other brands, Fortuna neckties work in essence by not to overwhelm his appearance as in a form of a distraction, but rather to subtly compliment his style depending on the choice of necktie.
The history of the necktie began way back in 17th century in Croatia, where cavalry troops would before engaging in battle, pertinently wrap scarves around their necks as a good luck charm, hoping for safe return to their wives and/or loved ones. Thus the necktie is more than a mere decorative garment. The necktie was a originated as a "gift of love" given to a cavalry troops, or warriors, as a charm praying for safety and good luck.
This same meaning can be transposed to the modern day business man, where the "battlefield" can be thought of as the office in modern society.
Based on this concept of "luck and fortune" on the battlefield, the Roman goddess of luck "Fortuna", was designated the brands name. Fortuna Tokyo portrays itself as a modern concept brand conveying luck and success to working businessman.
Akiko Koba - founder and designer of Fortuna says, "Many of today's leading designer brands seem to have this mentality that the wearer must match themselves to any particular piece of clothing. However, if the design comes across as being overly conspicuous and the wearer is only likely to be outshone, I can't help but construe that the original meaning of clothing is seemingly making less and less sense."
According to Ms.Koba, "Our neckties are committed and serve for their wearer, elegant, are not over-the-top conspicuous, and ultimately are designed to encourage the wearer to be and feel more attractive."
In order for the necktie to be able to serve for its wearer, Fortuna Tokyo built upon the idea to necessitate the combination of both beauty and strength and therefore focused all their attention
on creating neckties combining beauty, delicacy, and toughness.
The result of rigorous quality examination from a variety of silk producers, led to the affirmative decision to adopt Nishijin. Boasting a thousand years of history, the factory based in Kyoto Japan is renowned as Japans top producer of Kimono.
Nowadays, with a gradually diminishing interest in Kimono manufacturing, and relatively expensive Japanese yen rendering countless factories unable to resort utilizing foreign products, the adoption of Japanese only materials in Fortuna Tokyo's products hopes to maintain and protect Japanese traditional crafts and culture from hereinafter.
The quality of the necktie cloth
Unlike all of our competitors that use hand sketches for its designs, Fortuna ties are designed utilizing the state of the art design program that allows its ties to achieve a level of depth and precision unseen in that of its competitors. Fortuna utilizes the ancient kimono making technique to make its ties. This is apparent at first glance to anyone who sees the exquisite, characteristically Japanese color combination and level of detail.
Currently there are only 10 factories that make ties in the Kyoto Nishijin district, and Fortuna is produced in the finest of those factories. Regarding the silk, we use the best "3A Super Extra" silk used in making kimono. Because the horizontal thread is 63D thin, we reach an incredibly high level of detail, and gloss is applied. (rival factories use 1.7 times thicker, 105D threads) Our vertical threads are 21D (10,500 threads per 1m). (rival factories are 8,000-9,000 threads per 1m thick, resulting in a huge difference in the quality of the clothe) The speed of the machine that threads our cloth is 50-70% slower than those used by rival factories, resulting in an airier and better quality product. We use a "Jakad" machine called "Lebiya," which makes the color of the thread, as well as the use of Kyoto's clean mineral water results in a very aesthetically pleasing product. The clothes threaded in our factories are sold in all the country's top luxury brand stores. And last of all , there is a message for each necktie hoping that the wearer will share the luck of it's brand.
01. Innocence
'Within an innocent heart, a beautiful crystal lies.'
A rare design consisting of delicate snowflakes on a thin tie. It is more intricate and detailed than simple dotted tie, and the subdued coloration will match with any suit.
02. Spirit
'Always be positive, as it will bring good luck.'
A popular tie with vibrant yet subdued stripes. You can get it for yourself, or you can give to someone else as a present.
03. Friendship
'Friends are treasure throughout your life.'
An intricate pattern of marching soldiers. Because of its unique design, it will surely attract the attention of your co workers. Superb as a present to a new friend.
04. Adventure
'Move forward with courage based on your heart's instinct.'
The intricate ship and anchor design will bring out your inner adventuring spirit.
Great for people who love the ocean or sports.
05. Chance
'Take a chance on yourself!'
A checkered tie with vibrant, royal colors. Matches with any suit.
06. Game
'Enjoy the game. Fortune favours the brave.'
A thin tie dotted with small intricate chess pieces. For those of use who love to have fun.
07. Gentleness
'Treat others as you would like to be treated.'
A striped tie with a knightly image. A simple tie with an exquisite coloration.
08. King
'Have confidence in yourself. You are indispensable.'
A striped tie interspersed with an intricate pattern of lions and crowns. Great to wear in moments of important competition.
09. Sacred
'Sincerity and honesty will protect you through life.'
A stylish checkered tie with cross motifs. Great to wear both during work and pleasure.
10. Gratitude
'Gratitude will bring fortune and happiness.'
Using material 3 times thicker than regular ties, this tie has a checkered design on an especially rich fabric.
Each necktie is shipped with its assigned message card, and packaging to insure proper transport to its destination.
Online Shopping: http://fortunatokyo.com/en/product.html
Contact: info(at)fortunatokyo(dot)com
Address : Scene Akira 3F, 5-8-1, Minamiaoyama, Minato-Ku, Tokyo 107-0062, Japan
Tel : +81-3-5778-0387 Fax : +81-3-5778-6827
About Fortuna Tokyo
Founded in in Tokyo, Japan in 2011, Fortuna Tokyo is one of the Japanese leading necktie brands. With a renowned reputation for quality and Kyoto Nishijin's craftsmanship Fortuna Tokyo manufactures and distributes this luxury brand. For more information, please visit http://fortunatokyo.com/en/index.html