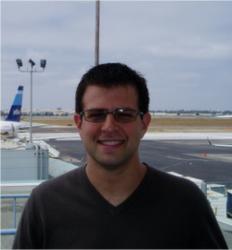 I think that travelers need to keep an eye on the rapid development of ultra low cost carriers here in the US. That's where I believe we will see the biggest changes in the near term.
New York, NY (PRWEB) March 08, 2012
ExpertFlyer.com®, the premier online air travel information tool, which now offers its award-winning Seat Alerts® feature free to all travelers, sat down with award-winning blogger and author, Brett Snyder -- aka The Cranky Flier -- to discuss his travel service, "Cranky Concierge," a unique air travel assistance service. During the One-on-One interview with ExpertFlyer, Mr. Snyder discusses his award-winning blog, The Cranky Flier, and why it has earned such popularity. With an ear to the runway, Snyder shares trends and anticipated developments that travelers should pay close attention to over the coming months, and explains that a personal assistant like Cranky Concierge is more affordable than one might think.
At Cranky Concierge, Snyder and his self-professed staff of "airline dorks," will personally monitor your flights, and watch for typical problems, such as delayed flights and weather updates, for your specific destination. If your flight is cancelled or you miss a connection, Cranky Concierge steps in to handle the hassles and options on your behalf to get you back on schedule without the anxiety of frustration of navigating through the rough waters known as airline travel.
Snyder also discusses the impact American Airline's recent bankruptcy filing might have on travelers over time and how the development of ultra-low-cost carriers, such as Ryanair in Europe, may change travel within the U.S., in the near term.
"I think that travelers need to keep an eye on the rapid development of ultra low cost carriers here in the US. Ryanair has led that trend in Europe for years, but we're really just seeing it start to unfold here. That's where we'll see the biggest changes in the near term, I think," explains Snyder.
"Brett Snyder is certainly one of the most informed experts in the airline travel industry who is willing and able to share his knowledge and insight with travelers at all levels of experience and frequency," says Chris Lopinto, President and co-founder, ExpertFlyer. "Our One-on-One blog was created to help travelers gain greater insight to all areas of the travel industry by inviting experts to share their knowledge and expertise with our audience. Brett certainly provides a level of expertise that is respected and appreciated."
To read the entire interview with Brett "The Cranky Flier" Snyder, please visit ExpertFlyer's blog.
About Brett Snyder / Cranky Concierge
Brett Snyder is the President and Chief Airline Dork of Cranky Concierge. Brett is (obviously) a proud airline dork and author of the award-winning consumer air travel blog, The Cranky Flier. Brett became the youngest known travel agent at the age of 12, so he has been helping solve travel problems for well over half his life.
In his career, Brett has worked at US Airways, America West, Eos, and United, so he understands how the business works from the inside. Even though he worked in an office and not at the airport, his favorite memories involve his near weekly stints helping out at in the Phoenix operation when he was at America West.
For years, Brett has helped his family and friends to get out of sticky situations while traveling. He has finally decided to start helping the public.
Brett has developed a network of airline dorks, each of whom has been trained to provide excellent customer service to you.
About ExpertFlyer.com
Each month, ExpertFlyer's One-on-One blog goes face-to-face with the travel industry's leading decision makers to discuss and address topics relevant to many of today's business and frequent travelers.
ExpertFlyer.com was conceived and created by an eclectic team consisting of a veteran elite tier frequent flyer, an airline captain and corporate travel manager, and information technology professionals to deliver a 24/7 real time powerful air travel information service. The company provides its subscribers and corporate travel managers alike with a complete, concise and efficient way to access the ever-changing details of worldwide air travel information. For more information, please visit http://www.expertflyer.com.